Veronica Rodriguez notes the location of a tube leak at the ABC bike club meetup Tuesday.
(Photos by M.Andersen/BikePortland)
Para leer esta historia en español, traducio por Google, haga clic aquí.
Three years after Portland's Community Cycling Center teamed up with the low-income Northeast Portland housing development Hacienda CDC to learn about the barriers to bike use in that community, some of those walls are falling down.
We've been hearing for months about the Cully neighborhood's new bike club, Andando en Bicicletas en Cully, a mostly Spanish-speaking group from in and around the Hacienda development who ride bikes together and have been organizing to improve biking in their area. On Tuesday, I headed up to check out one of their events.
Though they meet monthly, this was a special party — a celebration to welcome another group, a local leadership club, whose members were becoming part of ABC (as the bike club calls itself for short). They started with a potluck of pasta, rice, tortilla chips and cookies before getting down to business: a simple bike signaling and flat repair workshop, all of it conducted in Spanish.
Pedro Moreno of environmental wealth group
Verde
fills in the club on upcoming events focused on improving biking and walking in Cully.
Like most bike-related events, this was as much about seeing friends as it was about riding.
Jessica Reyes and Veronica Ramos Juarez, center, take part in a bike signaling drill.
Rodriguez and Moreno listen for the location of a tube leak.
Participants paired off to patch tubes.
Rodriguez took careful notes about each step of the tube repair process.
Reyes, a first-time attendee, gave a thumbs-up that she understood.
Supporting the workshop were Lale Santelices of the Community Cycling Center and Anna Gordon of Hacienda CDC. (Santelices' time was funded by a mix of grants and donations; Gordon's wasn't directly funded but she said it fits into her work as after-school program manager, so she helps out.) But as Santelices pointed out afterward, she mostly just provides a bit of bike expertise and crowd control and then takes instructions from the club.
"I tend to do whatever they tell me," Santelices said cheerfully.
Lorski goes over the tube repair process with Susana Pachecho, one of the club's leaders.
For example, they've just submitted a grant application to hold a bike fair at the CDC (which stands for "community development corporation" — it's a nonprofit, publicly subsidized housing project) and are advocating for better bike parking, which their development mostly lacks.
They're also preparing for a bike ride for the Cully community to discuss its biking needs.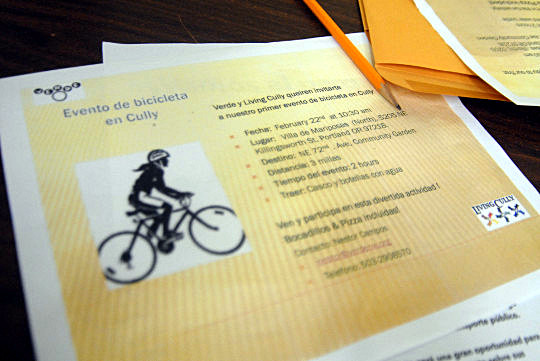 During the event, I had a chance to step outside for a conversation with Maria Jimenez, who attended part of the event as part of her internship with Verde. Jimenez, 23, lives in North Portland's Kenton neighborhood and gets around mostly by bicycle, including her five-mile commute to Cully at Northeast Killingsworth and 68th.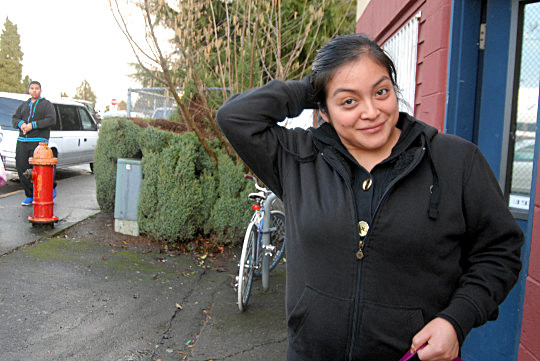 Last Saturday, Jimenez took part in a Community Cycling Center Create a Commuter workshop and said she'd been glad to get advice on how much space to leave between herself and parked cars, how to snap a tire around an innertube and other bike skills.
I asked if there was anything that could be done to improve biking for her. She said the biggest difference between Kenton and Cully is that in further-out northeast, "cars are going faster." The toughest part of her trip had been a crossing of MLK Boulevard, but she'd found a way around it.
"I got nervous, so I changed to a new route," she said. "To me, it's like they should put more bicycle lanes in."
The bike lane at the corner of Killingsworth and Northeast Lombard, a few blocks from Hacienda CDC.
Jimenez didn't seem immediately familiar with the idea of neighborhood greenways and didn't know the local street names well yet, so I couldn't pin down her route before she had to take off for another meeting. But it was a reminder that of the many barriers to riding bikes, some are more or less universal.