Posted by Michael Andersen (News Editor) on October 31st, 2013 at 1:32 pm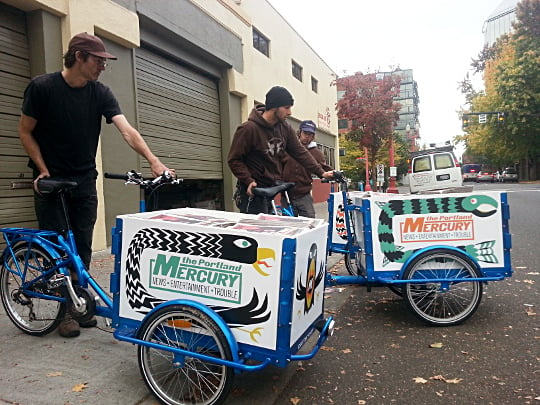 Michael Hanchin, left, drove a Portland Mercury delivery truck for 5 years before successfully pitching the company on a plan to switch to cargo trikes in the inner west side.
(Photo © M. Andersen/BikePortland)
Michael Hanchin couldn't take any more hours behind the wheel.
"You would never know where there's a loading zone," the veteran Portland Mercury delivery contractor, 42, recalled Wednesday. "I think that's what did me in."
Hanchin's back ached from crawling into the bed of his truck to haul out 18-pound newspaper bundles on hands and knees. His fuel and repair costs were eating up his contract income. Sometimes, when he couldn't find anywhere to park downtown, he'd sit behind his wheel and glare at other contractors while they ate lunch in their rigs, hogging the available space.
Then, after five years of delivering the Mercury to inner Southwest Portland every Wednesday, Hanchin had a revelation.
He'd recently rigged his truck to remove its canopy, replacing it with a homemade contraption that kept the papers dry. But after seeing SoupCycle and other cargo bike companies around town, he realized he'd been thinking too small.
"The idea is like, don't take the canopy off," he said. "Take the TRUCK off."
A few months later, Hanchin is no longer the Mercury's downtown delivery-truck driver. He's one of three downtown delivery-trike drivers. It's a deal, Hanchin and his colleagues say, that's speeding deliveries of the free alternative weekly newspaper, improving its marketing to the community and vastly improving the job of a newspaper deliverer.
Mercury General Manager Katie Lake said the cost to the company per copy is "comparable." Hanchin's truck, meanwhile, stays parked at his house, and he says the stress of his job has "evaporated."
"I take the bus to do my paper route," Hanchin said. "And that's so awesome."
Lake said delivering newspapers on a trike makes the Mercury part of its community in ways that truck deliveries can't.
"Our readers are literally flagging them down asking for a fresh copy," Lake said. "That's pretty cool."
Email This Post