After hearing about one collision and one near-miss, New Seasons Market has responded to bike safety concerns at their parking lot exit onto Vancouver Ave.
(Photo © J. Maus/BikePortland)
Now that New Seasons Market has opened on a busy block of the N Vancouver/Williams couplet, we weren't surprised when a reader emailed us about a traffic safety concern. The streets on both sides of the new store were already busy thoroughfares for buses, bikes, and cars — so adding in the traffic of a popular grocery store was almost certain to raise some issues.
Surprisingly, we haven't heard any feedback about the Williams Avenue side, where scores of people on bikes merge over two lanes of auto traffic to reach the store during the evening rush hour. We have however, heard about the Vancouver side.
A reader named Aaron G. got in touch with us last week to share his harrowing experience:
"I was riding my bike South on Vancouver and was nearly T-boned hard by a car shooting out of your parking lot, across Vancouver, onto Ivy St. It was dusk and I had a flashing headlamp, a front light, and was wearing light colors. I had to scream and brake as hard as I could and we ended up wheel-to-wheel, thankfully no one hurt.

So it seems that some patrons are trying to leave store by crossing 3 lanes of traffic on Vancouver to shoot into Ivy St. [see lead photo]. This is dangerous when they might be focusing on only waiting for cars to pass, and might not see the bikes obscured by the cars shooting by."
Further down the road that same day he was nearly hit, Aaron spoke to another person who was biking behind him. Turns out that person had "gone over someone's hood" at that very same spot a few weeks prior. This made Aaron even more concerned about the situation and he decided to notify New Seasons to hopefully do something to prevent anyone else from getting hurt.
A few days later, Aaron received a response from New Seasons' Customer Advocate Daniel Menasche. Menasche said they've got both short and long-term solutions in mind to improve traffic safety around the store. He pointed out the existing sandwich-board signs that encourage people to "Share the Road" and said they've partnered with the City and other businesses to install a new traffic signal at N Cook, which is one block south of Ivy. "Though this may not do so much to help with our parking lot exit," Menasche wrote to Aaron, "it should keep cyclists a lot safer about 100 feet down the road, where I myself have had a lot of close calls with the sort of "darters" you described."
However, since that new traffic signal is still at least one year away, and sandwich board signs don't really do much to influence behaviors, New Seasons decided to order new traffic signage immediately to deal with the issue Aaron brought to their attention.
New Seasons Operations Manager Elizabeth Nardi said she has purchased two new signs that will face the store's westbound parking lot exit. The signs are standard, yellow caution signs exactly like the ones below…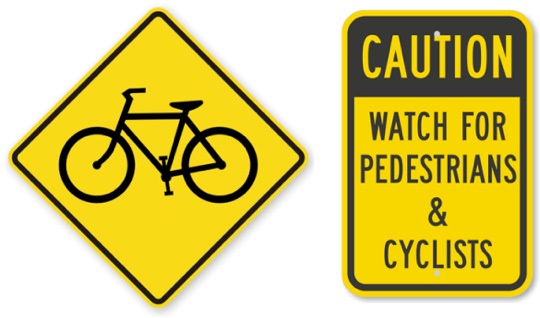 Hopefully these new signs will help drivers be more attentive to the presence of bicycle riders.
Thanks for sharing your story Aaron. It's great to see that yet again New Seasons has responded quickly to bike access issues.
Disclaimer: New Seasons Market pays for advertising on BikePortland.