Posted by Michael Andersen (News Editor) on July 18th, 2013 at 4:06 pm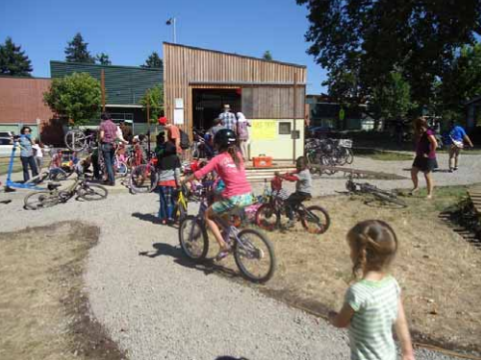 The New Columbia skills park directly serves
the development's 2500 residents.
(Photo: Community Cycling Center)
The residents of North Portland's public, mixed-income housing development New Columbia now have one of the city's handful of bike skills parks in their backyard.
Enhanced with paths, wood ramps, a berm and a bicycle teeter-totter, the park at the corner of North Wolsey and Trenton got an official opening ceremony Wednesday from its creators at the Community Cycling Center, the nonprofit Northeast Portland bike shop with a mission to make bicycles "a tool for empowerment and a vehicle for change."
Thousands of Portlanders will get a chance to check out the result two weeks from now: It's right on the route for North Portland Sunday Parkways on July 28. The $15,500 park, funded by a mix of private and public sources, is now open to the public during daylight hours.
The CCC began working with the New Columbia community in 2009 as part of a Metro-funded project that assessed the barriers to biking among low-income people of color at New Columbia and Hacienda CDC. New Columbia is owned by Home Forward, Portland's public housing agency.
Continuing discussions with families in New Columbia led the CCC to settle on the need for a bike park that could connect children with riding skills.
Email This Post