Posted by Michael Andersen (News Editor) on June 28th, 2013 at 8:46 am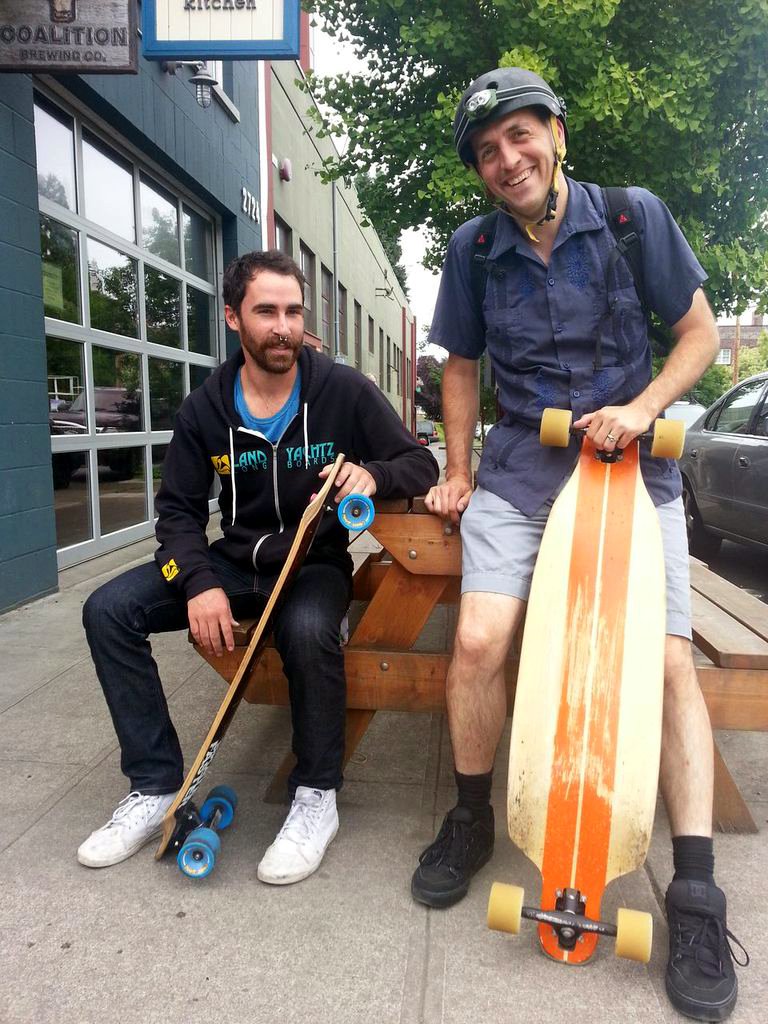 NWSC co-founders Billy "Bones" Meiners and Cory Poole.
(Photo © M. Andersen/BikePortland)
Forty years after Oregon started taking bicycle transportation seriously, a new group for people who get around by skateboard says it's another vehicle's turn.
The NW Skate Coalition, organized last fall in the wake of public controversy over downhill skating in the West Hills, is looking for new ways to persuade Portlanders that four polyurethane wheels and a maple board add up to a pretty good idea.
And anyone who's watched the growth of biking in Portland will recognize their agenda.
There's skate fun: The third annual Skate Critical Mass is tonight at 6 p.m. in Tom McCall Park. There's government recognition: they recently met to talk skateboarding with Mayor Charlie Hales' policy advisor. There's in-school education: they're hoping to take part in the local Safe Routes to School program.
NWSC co-founder Cory Poole is even participating in next month's Disaster Relief Trials on his longboard … and thinking about joining an upcoming move by bike, too.

It's an urban transportation movement that seems well-suited to Portland, which in 2000 decriminalized skateboarding on city streets after an uphill campaign by then-Transportation Commissioner Hales.
"Riders of such devices are subject to the provisions applicable to, and have the same rights and duties provided any driver of a vehicle … except when otherwise specifically provided."
— from the Portland City Code regulation of skateboards
"No one's looking at this as a viable transportation solution for urban areas," said Poole, 36, in an interview Thursday. "They kind of put up with it. They deal with it. [But] I don't think many cities other than Portland have said, 'This is not just something we should deal with but something we can use.'"
Billy Meiners, another NWSC co-founder (and also a founder of popular skateboarding website PDX Downhill), said that after years of successful short-term civic activism projects, Portland's skating community deserves more sustained, strategic effort on its behalf.
"There's plenty of groups that are like, 'We need a skate park,'" said Meiners, 27. "The skate park's built and it's like, 'We're done.'"
Though Poole and Meiners say they don't aspire to create a large professional organization like the Bicycle Transportation Alliance, they've looked to Oregon's 23-year-old bike advocacy group as a model of effectiveness and professionalism. They also look at Portland's increasingly diverse bike culture and see the future of the skateboard scene.
Email This Post