Thursday, March 10th, 2011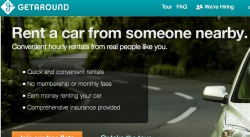 The bill would open up the Oregon
market for personal car sharing
services like Getaround.
HB 3149, a bill that would make it easier for personal car-sharing programs to start in Oregon, passed the House Transportation and Economic Development Committee by a vote of 7-1 yesterday. As we shared last fall, "peer-to-peer" car-sharing is a growing trend across the U.S. and there's a lot of potential for more of it in Oregon.
The bill itself would make the practice easier by prohibiting insurance companies from cancelling or altering a policy simply because the vehicle is a part of a personal vehicle sharing network.
[more…]