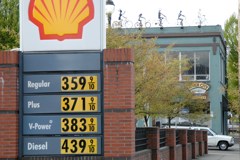 They're headed up again.
(Photo © J. Maus)
Here's the news that caught our eye last week:
– A look at some factors behind the "disconnect" between many bicycle advocacy programs and communities of color.
– In Tucson, the path of a family's decision to trade in one of their cars for a cargo bike.
– With political upheaval continuing in the Middle East, gas prices are on the way up.
– One of our local papers, The Portland Tribune, ran a front page story titled, Will a bike ride a day keep the doctor away?. The article was based on research from Switzerland (which we wrote about a month ago) theorizing that Portlanders could save $594 million dollars in health care costs over the next 30 years thanks to our bike friendly streets.
– Los Angeles has just enacted a new bicycle master plan that requires the city to build 1600 miles of new bicycle infrastructure.
– In Chicago, citywide bike counts show that over 20% of the traffic on some streets is bicycles.
– A profile of NYC transportation commissioner Janette Sadik-Khan, who has hugely expanded that city's bikeway network during her tenure, gives voice to her critics within the city administration.
– Also in New York, a proposed bicycle licensing bill has been withdrawn, and criticism is growing against what some call selective ticketing of people on bicycles.
– Sweden has discovered that with more energy efficient cars, people are driving more.
– Californians will soon be able to opt for pay-as-you-drive car insurance, which is hoped to result in less driving.
– Across the Pacific Northwest, for unknown reasons, driving has been on the decrease for years and sometimes decades.
– An insurance company survey found that nearly 20% of respondents admitted to using the internet while driving. Meanwhile a separate study recently found that over 10% of people in the US find that lack of sleep is a problem for their driving or commuting.
– After a right hook crash in Baltimore left a twenty year old student in a coma, police say charges will likely not be filed because "he did run into her car." UPDATE from a reader from Baltimore:
"Police have since retracted this statement. The investigation into the crash is on-going and charges are pending the outcome of the investigation. The Mayor's Bike Advisory Committee met with police on Thursday who were incredibly helpful & informative."
– A look at cities around the US that are removing freeway segments and replacing them with surface streets or light rail.
– After spending time bicycling in Amsterdam, a New Yorker tries to apply what he learned to bicycling at home, with a little success.
– In Tel Aviv, Israel, an organization is fighting to save the city's mandatory all ages bicycle helmet law.
– A look at various bike bloggers and their relationships with the bike industry.
– A tale of random acts of generosity in a Toronto bike lane.
– This is what an architect-designed bike shop looks like.
– A graphic display of some of your options when you're yelled at on the road.