Posted by Jonathan Maus (Publisher/Editor) on November 3rd, 2009 at 10:18 am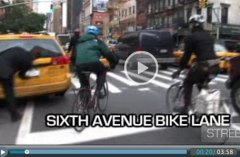 Blumenauer (in green jacket) avoids
a taxi while riding on Sixth Ave.
-Watch video below-
U.S. Representative Earl Blumenauer went for a ride with bike advocates in New York City over the weekend and Streetfilms was there to capture the action.
Blumenauer rolled down the bike lane on Sixth Ave, calling the experience "pretty grim". However, when he turned onto the cycle track on Ninth, his feelings "changed completely".
Paul Steely White, executive director of Transportation Alternatives, shared how far New York City has come in recent years:
"We started years ago aspiring to be Portland, looking to Portland for best practices, now we're at the point in New York where Portland is actually borrowing from us."
As he pedals down the streets of mid-town, Blumenauer shares his feelings on the national bike movement, the importance of New York City's "extraordinarily sophisticated" efforts, and more. It's inspiring and well worth a view:
Email This Post
Possibly related posts