Posted by Jonathan Maus (Publisher/Editor) on October 4th, 2007 at 12:48 pm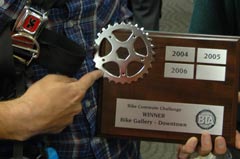 Awards and bragging rights are at stake tonight.
(File photo © Jonathan Maus)
Tonight in Southeast Portland -- just yards from one of the city's busiest bikeways -- the BTA will hold their annual Bike Commute Challenge after party.
Thousands of bike commuters from companies throughout Oregon (see the impressive list here) "challenged" each other to see who could log the most trips by bike. The event lasted all of September and all signs point to it being another smashing success.

I asked the BTA's Events and Outreach Director Michelle Poyourow for an early scoop on some of the numbers and winners that will be announced tonight. She was pretty secretive but she did let on that, "one of the presenting sponsors will win -- and there was no funny business involved!" (That would meant either OHSU or Metro). She also said that one of the bike shops, "had every single employee bike every single day, no exceptions. Which is huge. And yes, they won."
It's sure to be a fun and spirited night full of raffles, prizes, pizza and more... Won't you join us?
BTA Bike Commute Challenge After-Party
Organics to You warehouse (606 SE Madison St.)
5-7pm
Email This Post
Possibly related posts