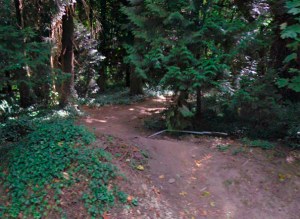 A trail into the Riverview natural area.
Portland Parks & Recreation will host a trail work party at their newly acquired Riverview natural area next week and many of the volunteers that show up will be from the Northwest Trail Alliance, a group eager to expand local off-road riding opportunities and willing to invest sweat equity to make it happen.
Back in May of 2011, Portland Parks & Recreation teamed up with the City's Bureau of Environmental Services and Metro to buy 146 acres of forested land located just south of Riverview Cemetery and the Sellwood Bridge. The parcel of land was previously owned by the adjacent Riverview Cemetery. Technically, the land was private, but over the past two decades people have been hiking and biking through it and a mish-mash network of trails has developed. To my knowledge, Riverview Cemetery (to their credit) has chosen to look the other way instead of cracking down on trespassers.
With the City of Portland's well-known lack of close-in singletrack trail riding opportunities, the purchase of this land — known as the "LC Trails" (due to nearby Lewis & Clark College) or simply "the cemetery" — immediately piqued the interest of off-road riding advocates. Local business owner and well-known rider Erik Tonkin has ridden the trails for 18 years. He says he "can't imagine" a place where he'd rather see a public and professionally managed network of off-road bike trails.