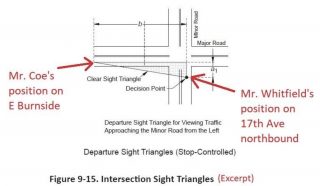 The idea of no-parking zones at intersections started with a state law. Then it became a point of contention for transportation activists, then a City of Portland policy, then a campaign from a walking advocacy group.
Now it has become the basis of a lawsuit.
Yesterday, Portland attorney Scott Kocher of Forum Law Group filed a $5.9 million lawsuit (PDF) against the City of Portland for negligence in the death of Elijah Coe, who was hit by a driver while riding his motorcycle on East Burnside in May 2019.