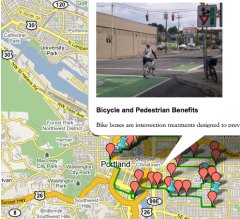 Detail of the IBPI's Virtual
Bike Tour map.
(Larger version below)
Portland's bike network is one of the finest in the country. As such, our city regularly plays host to urban planners, engineers, and other wonky folks who want to learn and understand, first-hand, how our bike facilities look and feel.
Usually, these visitors are given a guided tour by a City of Portland employee or by one of our resident bike experts. But now, with the launch of a Virtual Bike Tour, the Institute of Bicycle and Pedestrian Innovation at Portland State University has made it easy for anyone to take an educational tour of Portland's bikey highlights.