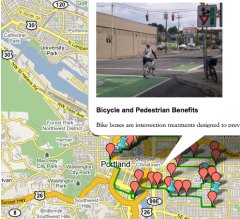 Detail of the IBPI's Virtual
Bike Tour map.
(Larger version below)
Portland's bike network is one of the finest in the country. As such, our city regularly plays host to urban planners, engineers, and other wonky folks who want to learn and understand, first-hand, how our bike facilities look and feel.
Usually, these visitors are given a guided tour by a City of Portland employee or by one of our resident bike experts. But now, with the launch of a Virtual Bike Tour, the Institute of Bicycle and Pedestrian Innovation at Portland State University has made it easy for anyone to take an educational tour of Portland's bikey highlights.

The IBPI turned two in August. Since their inception, the organization has trained hundreds of biking and walking professionals from around the country and has supported leading bicycle researchers like Jennifer Dill (recently featured in a Scientific American article) and Lynn Weigand. Also in August, the IBPI launched the Bicycle & Pedestrian Tour and Learning Center.
The center is an online hub packed with resources about biking and walking in Portland. One of the most exciting features is a Virtual Bike Tour. Based on a Google Map, the tour lists 26 engineering and infrastructure highlights on a short loop through inner Southeast and Northeast Portland.
Each of the highlighted facilities includes a photo, an explanation of its benefits, and contact information for the agency in charge of installing and maintaining it. Check it out below, or go to a larger version at Google Maps.

View IBPI- Bike Tour in a larger map
If you have questions or feedback about this site or my work, feel free to contact me at @jonathan_maus on Twitter, via email at maus.jonathan@gmail.com, or phone/text at 503-706-8804. Also, if you read and appreciate this site, please become a supporter.