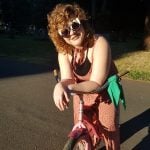 by Maritza Arango (Events Editor) on August 19th, 2021 at 1:00 am
Looking for a fun and interesting activity to do this summer? Come join the Bureau of Environmental Services and Friends of Trees for a sustainable stormwater and heritage tree bike ride in Portsmouth! Riders will learn the roles trees, plants, and soils play in preventing flooding, providing habitat for wildlife and people, and keeping our rivers clean. The five-mile point-to-point route will also give riders an opportunity to see some of North Portland's oldest and rarest trees!
Details:
Length: ~2 hour ride. Please arrive 10 minutes early to check in.
Distance: ~5 miles.
Starting Location: Portsmouth Neighborhood (Specific location will be emailed out before event).
Sustainable stormwater: green street planters, ecoroofs, native plants, and more!
Trees: butternut, Oregon white oak, sugar maple, and willow oak.
The following COVID 19 practices will be in place: Masks will be required, 6 feet distances will be kept between people of different households, and the group size will be kept to a maximum of 20 people. Additional COVID 19-related information will be emailed to registered riders before the event takes place.
End location: Columbia Wastewater Treatment Facility
Please register for the event to receive location and other information. Register by emailing Chase at 2theRiver@portlandoregon.gov or by calling 503-865-6709.