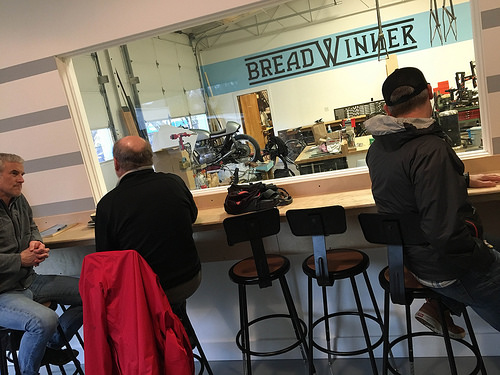 The story behind the new Breadwinner Cafe is Portland at its best.
The two guys behind it — Tony Pereira and Ira Ryan — started over a decade ago as bicycle builders toiling in their garages on frames bearing their own names (Pereira Cycles and Ira Ryan Cycles respectively). Then in 2013 they joined forces to form Breadwinner Cycles. That brand and business has matured nicely over the years; but the duo was still cramped for space. Last spring they leased a building on North Williams Avenue and Page Street and have been working all year to renovate the space.
Today they took a huge step forward with the opening of Breadwinner Cafe, which is directly adjacent to the workshop where they build the 10 different models they currently offer. Tony and Ira have gone from framebuilders to community builders.