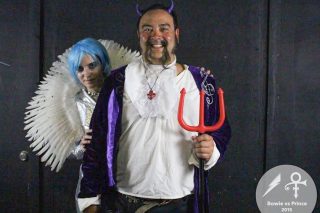 The recent deaths of rock titans David Bowie and Prince have had a unique impact on Portland because of the beloved tradition of the Bowie Vs Prince ride. The woman who created the ride, Lillian Karabaic, sent us a few last-minute reminders before it rolls for the last time this Saturday (6/11) at 7:00 pm.
For the 9th and final time, Bowie Vs Prince will ride tomorrow through the streets of Portland. For some folks, they've never missed this ride, and for others, it will be their first time. Below are a few things to keep in mind before you roll out on Saturday night…
1. Best things to Bring for Dancing in The Streets
Bring snacks, water, lights, a bike lock, your ID and your dancing shoes. If you can, bring a candle for a memorial. If you usually hit bed early, I'd recommend a disco nap in the evening, as this ride will go late.