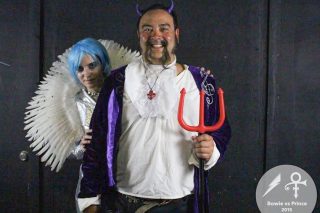 The recent deaths of rock titans David Bowie and Prince have had a unique impact on Portland because of the beloved tradition of the Bowie Vs Prince ride. The woman who created the ride, Lillian Karabaic, sent us a few last-minute reminders before it rolls for the last time this Saturday (6/11) at 7:00 pm.
For the 9th and final time, Bowie Vs Prince will ride tomorrow through the streets of Portland. For some folks, they've never missed this ride, and for others, it will be their first time. Below are a few things to keep in mind before you roll out on Saturday night…
1. Best things to Bring for Dancing in The Streets
Bring snacks, water, lights, a bike lock, your ID and your dancing shoes. If you can, bring a candle for a memorial. If you usually hit bed early, I'd recommend a disco nap in the evening, as this ride will go late.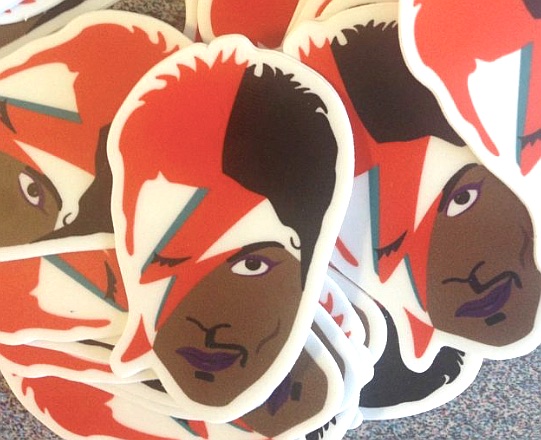 2. Major Tom to Ground Kontrol
Team Prince starts at Sewallcrest Park (SE 31st and Market) and will meet up quickly with Team Bowie, who starts at Holladay Park (NE 11th and Multnomah). It's totally okay to start at a different start point than your "allegience" – we're all friends here. The ride route will be posted day of, but will loop through innner SE to downtown, and end in Sellwood. You'll love the end party with dancing, karaoke, a costume contest, and a photobooth, so stay til the end if you can (beverages available, cards and cash accepted.) You catch up with the ride by following @anomalily or @dirtydiablorides on Twitter.
3. Purple Rain (won't stop us)
Even if it's raining, the ride will ride on. Take inspiration from Prince's amazing rain-soaked superbowl performance. If the rain is really coming down, the route will be shortened from ~9 miles to ~5 miles. The endpoint is covered and inside!
4. You Remind Me of the Babe
While the end party spot is 21+, families are totally welcome on the ride and the route is designed to be cargo-bike and slow-bike friendly at around ~8-9MPH roll. Just keep any babies away from the Goblin King!
5. Who helps us party like it's 1999?
A small group of amazing volunteers work their sparkling butts off to make the ride an awesome experience, plus local business sponsors that donate materials and cash to offset some of the costs. Give some love to Clinton Street Theater, Berkshire Ginsberg LLC, Montucky Cold Snack, Go By Bike, and AnomaLily Consulting for helping make the ride possible.
6. The (Wo)Man Who Sold the World
There's some seriously schwank pennants available to buy to support Bowie Vs Prince expenses. They're limited edition (only 50) so reserve yours before the ride.
7. Ch-ch-ch-changes
Is this really the last ever Bowie Vs Prince? Only time will tell.
For more great rides all month long check out the calendar at Pedalpalooza.org.
— Jonathan Maus, (503) 706-8804 – jonathan@bikeportland.org
Our work is supported by subscribers. Please become one today.