Tuesday, March 18th, 2014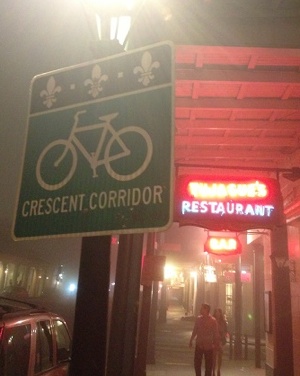 (Photo by Erin Greeson)
Welcome to the third installment of our series on bicycling and transportation culture in New Orleans by former Portlander and BikePortland contributor Erin Greeson. Erin currently lives in New Orleans. Read the rest of the series here.
Part III: Rich Community, Gumbo Culture
New Orleans' traditions of art, music, creativity and festivity translate to its bike culture.
At the New Orleans Jazz & Heritage Festival, seasoned locals lock dozens, if not hundreds, of bikes near the entry gates (pictured below). They know to avoid driving anywhere near the scene, which draws music lovers from around the world: topping out at over 425,000 attendees in 2013.
There are bicycle "second-line" parades organized by Bike Easy, which put a two-wheeled spin on a deep-rooted New Orleans tradition. There are colorful, quirky bike groups. Thursday night meet-up rides feature themes reminiscent of Portland's "Pedalpalooza" rides, New Orleans-style. NOLA Social Ride hosts a signature Thursday ride and other rides throughout the week. Bikes are often incorporated into costumes and parades; costumes and festive attire are commonly worn in New Orleans, not just for Halloween and Mardi Gras, but for occasions ranging from Saint Patrick's Day to Saints games.
[Read more…]