Biking to the end of the rainbow on the Mississippi River Trail.
(Photos by Erin Greeson)
Welcome to the second installment of a three-part series on bicycling and transportation culture in New Orleans by former Portlander and BikePortland contributor Erin Greeson. Erin currently lives in New Orleans. Read her introduction to this series here.
Part II: Infrastructure and Improvements
Bike lanes are appearing in other neighborhoods as post-Katrina improvements advance.
Comparing biking in Portland to biking in New Orleans is like comparing the mellow apple cider of the Northwest to the bite of the Crescent City's signature orange-garnished Sazerac. As diverse as respective bike infrastructure, transit adoptions and cultural acceptance of bikes on the road may be, one thing is certain: New Orleans' bike community is strong and serious. The options are different, but abundant. And they are growing.
While plenty of people bike in New Orleans, they experience plenty of challenges. Culturally, cars and trucks dominate the roads. Even walkers don't have the cultural right-of-way in cross walks. But this is slowly beginning to change. While there is much ground to gain, much progress has been made.
If you build it, we will bike it
It's a work in progress.
As Portland citizens and policymakers understand, one key to a successful bike culture is good infrastructure and urban planning. While it's unreasonable to compare New Orleans' infrastructure and policy landscape to Portland's, it is fair to say that improvements are being made. And they are having an impact. If you build it, we will bike it. Bike lanes have been added to famous Uptown avenues St. Charles and Carollton, thoroughfares renowned for magnificent historic homes, the expansive greens and live oaks of Audubon Park and the bustling college campuses of Loyola and Tulane. Bike lanes are appearing in other neighborhoods as post-Katrina improvements advance. Key arteries like St. Claude and Esplanade Avenue feature bike lanes.
Despite these improvements, biking New Orleans amplifies the need for defensiveness. It's a 180-degree turn from the comparably safe Portland biking experience. Whether aggressive, intoxicated or just amicably unaware, unsafe drivers frequently encumber safe shared-road conditions. And then there are potholes (see photograph). Whether caused by shifting delta terrain, recurrent flooding or public works neglect, New Orleans potholes make those targeted by Portland cyclists look like inviting fresh-paved asphalt. They are no problem to circumvent if you know where they are. For safe rides with good mileage, cyclists frequent the car-free Mississippi River Trail, a beautifully paved path along the levee. Other options include low-traffic roads along Lake Pontchartrain, and a short (and fun) Algiers Ferry ride across the river to "the Westbank" for pleasant rides along relatively relaxed roads.
A bike lane connects residents to Audubon Park.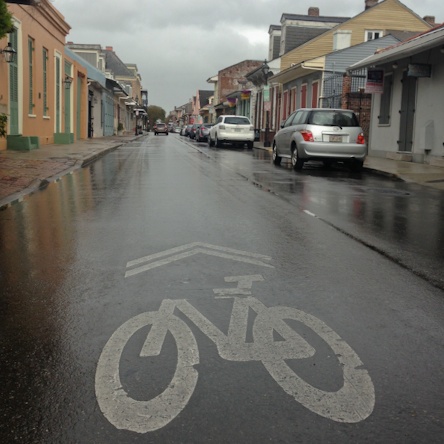 Advocates Advancing
While Portland's bike success story was long in the making — thanks to policy, urban planning, and leaders who prioritized healthy communities and environments — it grew rapidly due to public will and strong advocacy. Just as New Orleans demonstrates immense will for rebuilding, economic growth, cultural preservation and community enhancements, the city is becoming more bike-friendly, thanks to visionary people and advocacy groups.
Bike Easy is leading the advocacy charge for New Orleans. The organization's projects and advocacy efforts include community bicycle workshops, group rides and events and engaging offerings like bike valet services at festivals, which are a constant aspect of New Orleans living. Recognizing New Orleans' greatest assets — rich diversity and strong communities — in its outreach, Bike Easy provides commuter resources and bike maps in English, Vietnamese and in Spanish. The group also spearheads critical policy advocacy and community campaigns, including an effort to achieve safe, equitable transit conditions for bike riders and walkers over the St. Claude Avenue Bridge, the only non-motorized connector for residents of the Upper and Lower Ninth Ward communities across the Industrial Canal — a levee that failed during Katrina. With so many aspects of the historic Ninth Ward achieving post-Katrina comebacks, Bike Easy feels it's high time to "Connect the Nine."
Ordinary Men. Extraordinary Moves.
When it comes to advocacy in New Orleans, the 610 Stompers steal the show with their creative flourishes. Only live witness can capture what this Mardi Gras krewe — "Ordinary Men with Extraordinary Moves" — is about. Snug powder-blue shorts. Mustaches and bellies. Headbands and golden sneakers. Enthusiastic arms and gyrating hips. The Stompers' legendary Macy's Thanksgiving Day Parade routine (watch it on YouTube) left national broadcast commentators speechless, but in New Orleans, citizens are accustomed to enjoying the 610 Stompers and other krewes at parades, Saints half-time shows and fundraisers.
Recently, a widespread bike safety advocacy campaign featured this beloved krewe: a group that about anyone from New Orleans would recognize. Initiated by the Regional Planning Commission, the campaign tapped into humor and traditions that speak to New Orleans' distinctive culture. Suddenly, the Stompers where everywhere: on billboards, bus stops, bus signs, parking meters and bike racks. Slogans encouraged drivers to keep three feet from people on bicycles while passing, and to look before opening car doors. A fun interactive online quiz promoted through Facebook worked to engage, educate and test participants' knowledge of Louisiana bike laws. (Take the quiz to see how you score at www.watchoutnola.com.)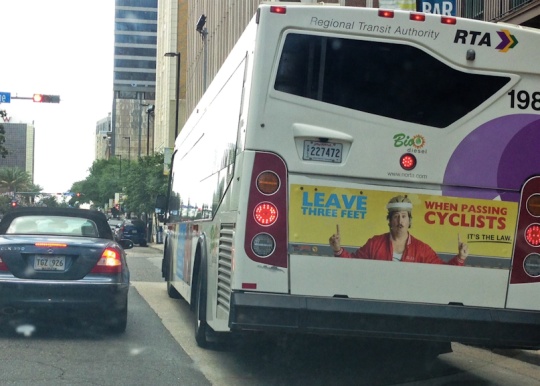 A member of the 610 Stompers helps boost bike awareness.
The campaign sparked buzz throughout the community and boosted awareness. It was brilliant, deserves an award for values-driven social marketing campaign, and offers a model for other communities to consider as bike advocates contemplate what unique community values are embraced by and will resonate with respective audiences.
— Stay tuned for the next installment in this series when Erin takes a closer look at the colorful cultural side of New Orleans' budding bike scene.