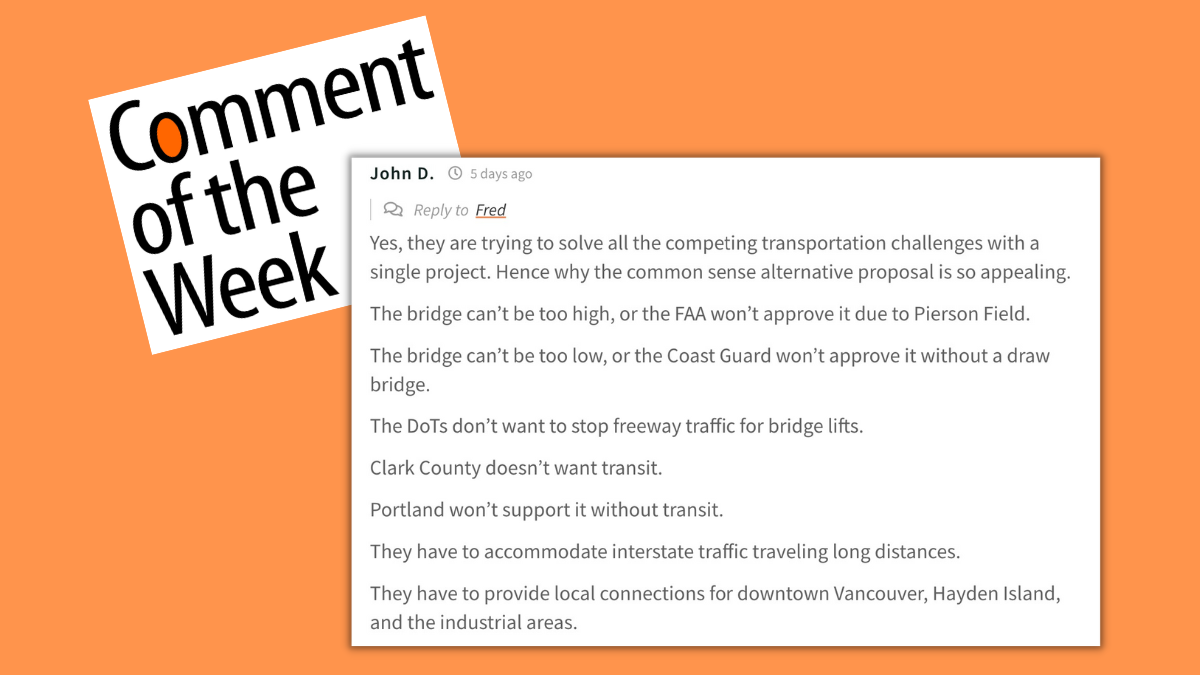 Welcome to the Comment of the Week, where we highlight good comments in order to inspire more of them. You can help us choose our next one by replying with "comment of the week" to any comment you think deserves recognition. Please note: These selections are not endorsements.
---
I try really hard to stay well-informed but, try as I may, grasping the ins and outs of the Interstate Bridge Replacement Program usually gets the best of me. That is why I was so happy when one BikePortland commenter wrote up a handy cheat sheet for all of the conflicting interests. I keep mine on the refrigerator.
But you could also print it out in a really small font, laminate it, and keep it in your wallet.
Whatever you decide to do with it, enjoy John D's wry comment in response to our most recent IBRP post, Beg, borrow, and deal: Lawmakers float $1 billion I-5 freeway expansion funding plan:
Yes, they are trying to solve all the competing transportation challenges with a single project. Hence why the common sense alternative proposal is so appealing.

The bridge can't be too high, or the FAA won't approve it due to Pierson [sic] Field.
The bridge can't be too low, or the Coast Guard won't approve it without a draw bridge.
The DoTs don't want to stop freeway traffic for bridge lifts.
Clark County doesn't want transit.
Portland won't support it without transit.
They have to accommodate interstate traffic traveling long distances.
They have to provide local connections for downtown Vancouver, Hayden Island, and the industrial areas.

Clearly all of those would be better serves by a series of smaller, focused projects, not a single one, but that's not how our funding system is set up. Instead of long term, sustainable (financial and environmental) thinking, we throw billions at giant capital projects, but not at maintaining them once they're built. We just assume that in another 50 years there will be another mega-project that will replace the current mega-project.
But wait!!! There's more! Apparently John D left something out. Luckily Chris caught the oversight.
You forgot one, the Coast Guard doesn't want additional bridge piers between the existing I-5 bridge and the railroad bridge. It will further complicate the currents for ships.
---
Thank you John D and Chris! You can find John D's comment , and Chris's too, under the original post.