House Bill 2571, a.k.a. the e-bike rebate bill, is currently working its way through the Oregon legislature with strong support from activists statewide who know just how transformative e-bikes can be for getting people out of their cars and lowering carbon emissions from the transportation sector. Now, thanks to a report released out of Denver last week, these advocates have more data to back up their stance on the efficacy of e-bike rebate programs.
After launching its wildly successful e-bike voucher program last April, the city of Denver, Colorado has become an exemplar for why it works to give people money for electric bikes. Denver's initiative allows any resident to access a $400 e-bike voucher, while income-qualified residents can access up to $1,200, with an additional $500 for the more expensive e-cargo bikes. Every time these vouchers have been offered, Denver residents have snatched them up like hotcakes: more than 4,700 Denver residents became e-bike owners in 2022, and an additional 860 people benefited from the latest round of vouchers offered in January.
The report is co-authored by multiple organizations including the advocacy non-profits PeopleForBikes and Bicycle Colorado, sustainability research organization Rocky Mountain Institute (RMI), the City and County of Denver and Portland-based ride tracking company Ride Report. Each group digs into a different pertinent topic, like how often these new e-bike owners are using their bikes, what kinds of trips they use them for and how other cities and states should create their own e-bike rebate programs. Here are a few key insights gleaned from the report.
People use their electric bikes as car replacements
Although many people who own electric bikes can tell you how life-changing they are for getting around without a car, some e-bike rebate skeptics have expressed concern that people will use public funding to buy bikes they never use. The Denver report refutes this idea, showing data that suggests people use their new electric bikes a lot.
The City of Denver's office of Climate Action, Sustainability & Resiliency (CASR) sent out a survey to rebate recipients to gauge some of their travel habits. Through the roughly 1,000 people responded to the survey, CASR gleaned that respondents are riding their e-bikes an average of 26 miles each week, replacing 3.4 car round trips. In total, CASR estimates the new e-bikes replace 100,000 vehicle miles traveled each week.
Additionally, Ride Report has been studying data from a smaller pool of Denver e-bike rebate recipients who used their ride tracking app to record how they used their new e-bikes. Ride Report wanted to know if "rebate recipients actually ride their new ebikes" or if they "sit dormant in the garage collecting dust," and their findings indicate the former result. 65% of e-bike rebate recipients who downloaded the Ride App were riding their e-bike daily, and 90% were riding weekly.
Interestingly, the report indicates that income-qualified residents use their e-bikes nearly 50% more than standard voucher recipients, perhaps because they didn't have a reliable transportation method before getting their electric bikes. Oregon's proposed e-bike bill currently doesn't include means-testing: regardless of income, all Oregonians would be able to access the same voucher amount.
One particularly notable data point is that nearly 30% of survey respondents indicated they were new bike riders. At a time when Portland's bike ridership numbers are falling, we can look to Denver where electric bikes are bringing new people into the fold.
There's a process to getting these programs right
The report gives a rundown on how Denver started its e-bike rebate program and why other cities are embracing these incentives, offering some advice for designing similar initiatives.
"Electric bicycles reduce barriers to bicycling by helping people ride more often and for longer distances…[e-bike incentives] create low-cost, accessible, and efficient solutions for achieving our nation's climate, sustainability, health, and transportation goals," Ashley Seaward and Not Banayan from PeopleForBikes write. "In the United States, the transportation sector accounts for nearly a third of total carbon emissions. Electric bicycle incentive programs target this specific segment of carbon emissions by making this emerging technology more available to Americans seeking affordable mobility solutions that reduce their emissions and better connect them with their communities."
Denver's e-bike rebate program is funded through the city's Climate Protection Fund, which uses a $0.25 sales tax to pay for local climate mitigation projects including the vouchers. After nine months of the program, the city had spent $4.7 million on e-bike rebates.
The City of Denver has several tips for cities and states organizing their own e-bike incentive programs.
Budget accordingly
Keep the resident application process simple and easy
If e-cargo bikes receive a different level of incentive, try to make the definition of e-cargo bike as objective as possible
Make the incentive applicable at the time of purchase
Build relationships and work with local bike shops
Lead early and genuine outreach in lower income neighborhoods
Make a plan for how to collect data from individuals once they have purchased the ebike
Think holistically about inducing demand for biking in your region by prioritizing investment in safe infrastructure
E-bike rebates don't remove the need for shared micromobility systems
The report states that in order for e-bike rebate programs to be as effective as possible for reducing car use in a city, they must work in tandem with bike and scooter share programs. Denver saw their highest ridership of shared electric bikes this past summer during the e-bike subsidy program, "indicating that the rebates are a complement to the shared program and vice versa."
According to research from Ride Report, the average trip length on a subsidized e-bike is 3.3 miles, while the average trip distance on a shared e-bike is 1.6 miles.
"The data indicates that the owned ebikes purchased through the rebate program are for longer and more frequent trips, and during commuting type times compared to shared ebikes. This again is an indicator of the distinct and complementary nature of shared and owned ebikes, both of which are encouraged through public policies and programs from the City and County of Denver," the report states.
The carbon emissions savings are real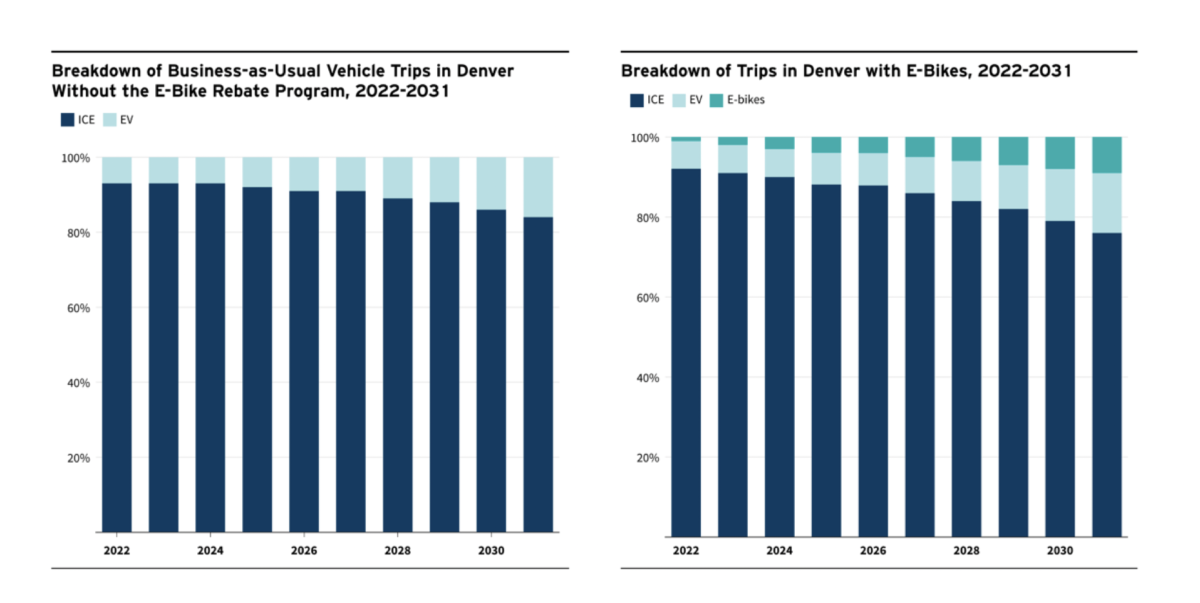 How valuable are e-bikes as a tool for climate action? While anecdotal evidence is positive, this hasn't been fully hashed out yet.
"While ebikes are very popular with users, their full economic and climate benefits are not fully understood. It can be difficult to assess the impact that shifting trips from ICE and electric vehicles to ebikes will have on transportation emissions, making it difficult for policymakers to incorporate them into climate policy," the report states.
According to RMI's research on how e-bike subsidies help combat climate change, this program saved 94 lb CO2e per dollar spent, for a total of 2,040 metric tons of CO2e avoided emissions per year. RMI's research shows that e-bikes aren't just superior to internal combustion engine (ICE) cars, but they're also more effective for avoiding carbon emissions than electric cars, which currently receive the vast majority of government subsidies and rebates. If an ICE vehicle produces .54 metric tons (MT) of CO2 emissions, an electric vehicle produces .19 MT and an e-bike produces .01 MT — a huge difference.
RMI concludes that "establishing a program similar to Denver's ebike rebate program would likely reduce GHG emissions from transportation in cities and save residents money" but " until this point, the exact impact of the program on cities' climate goals has been hard to determine." RMI's carbon savings calculator "can arm advocacy groups and cities with firm numbers to quantify impacts and help officials understand and assess the value of adopting a similar program."
More benefits
Some other outcomes of the e-bike rebate program are more tangential, and can be difficult to quantify. One such advantage that the report didn't touch on is how the rebates are creating a broader coalition of bike advocates, resulting in improved bike infrastructure even for people who didn't receive a voucher.
A recent CityLab article looks at how residents getting their "first taste of the joys and anxieties of navigating their city on two wheels" after buying an e-bike through the rebate program may be compelled to "add their voice to those already clamoring for better bike accommodations."
The Denver report contains more information about the e-bike rebate program and is a very helpful document for understanding the benefits of such initiatives. You can find the full report here, and stay tuned for more updates on Oregon's e-bike bill.