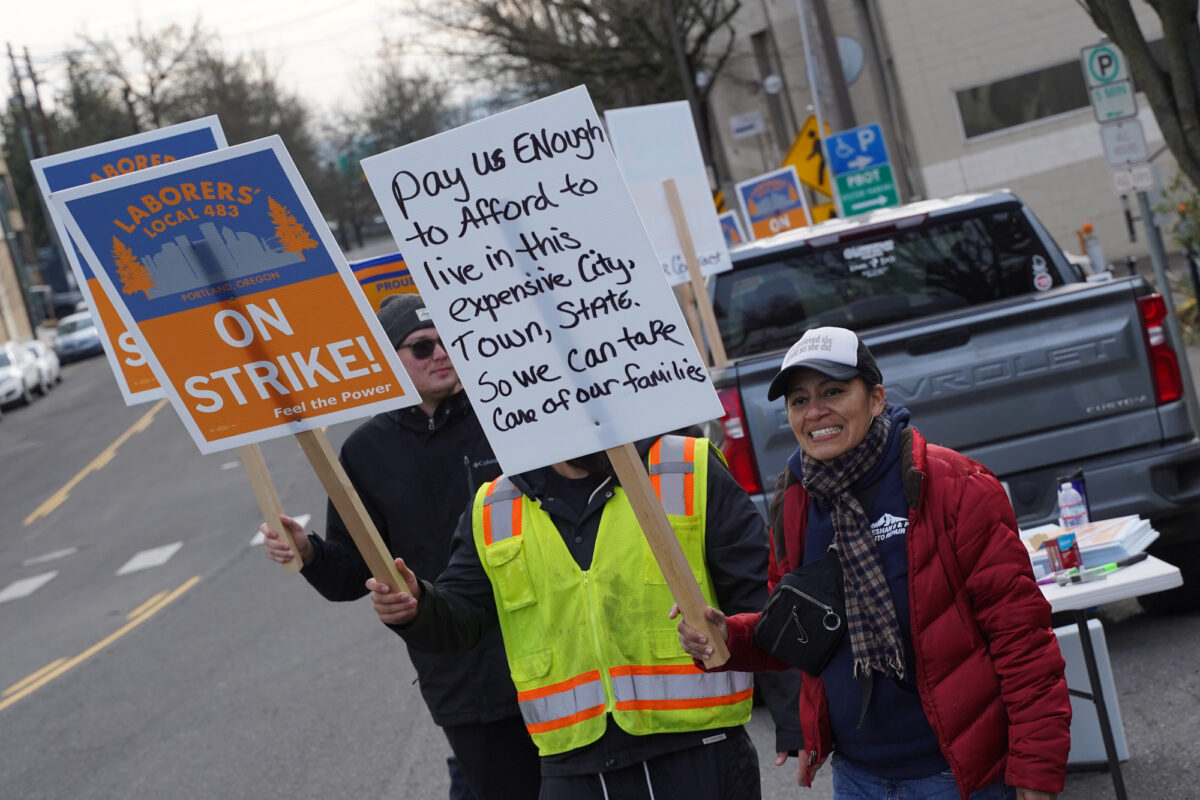 ---
The mood was upbeat on the picket line outside the Portland Bureau of Transportation Maintenance Operation headquarters on North Kerby today. The honks and waves of support from passersby and warm smiles from workers as they nibbled on free food and refueled power generators was in stark contrast to the frosty negotiations that led to this strike.
After nearly a year of back-and-forth with city managers, just over 600 workers represented by Laborers Local 483 made good on threats we first reported about in September and began their strike at 12:01 am this morning. The Oregonian reports it's the first municipal strike in 20 years.
The workers from the city bureaus of environmental services, parks and recreation, and transportation are holding out over a contract dispute. According to NW Labor Press, the City of Portland's latest offer — a 6% wage increase retroactive to July 2022, and another 6% wage increase in July 2023, along with cost-of-living adjustments — wasn't enough. Local 483 wants more. PBOT workers I spoke with on the picket line today say they want to make enough to live in Portland and receive paychecks on par with other PBOT workers.
"Pay us enough to afford to live in this expensive city, so we can take care of our families," read one workers sign. "Teddy and Tara, you should be ashamed to represent the workers," read another one that referenced Portland Mayor Ted Wheeler and Interim PBOT Director Tara Wasiak (a former director of PBOT Maintenance Operations, interestingly enough.)
This strike comes at an already precarious time for PBOT: The agency's director since 2019 recently left his post for a job with Governor Tina Kotek; they're transitioning to a brand new commissioner-in-charge; and they're facing scrutiny over an ever-rising toll of traffic fatalities despite a "vision zero" promise made years ago.
And then there's the budget.
At a Portland City Council work session this week, the city's Chief Administrative Officer Michael Jordan lead a conversation about asset management. The discussion was about all city bureaus, and PBOT's infamous "maintenance backlog" and ongoing budget woes featured prominently. At one point in the session, rookie City Commissioner Rene Gonzalez asked Jordan to give him a quick rundown on how each bureau is currently handling their asset management and maintenance issues. "[The Bureau of] Transportation, to be honest," Jordan said candidly, "is slowly going out of business." "The gas tax is a dying revenue source and until the state moves to some kind of vehicle mile traveled (VMT) fee and or we do something much more dramatic locally, transportation is going to be very challenged."
According to city budget documents, PBOT has cut 10.5% of their general transportation revenue budget and 43.5 full time employees. This year they're being asked to make GTR reductions of an additional $6.3 million (or 4.3%) and another 15 FTE. If they don't find new revenue sources, the cuts will have to continue at a similar rate next year.
There are budget realities, and then there are human realities. Below are snips from conversations I had withy workers on the picket line today (out of respect for their privacy amid employment negotiations, I didn't ask anyone to share their name):
Member of a street maintenance crew that fixes potholes, paves streets, and lays down pavement:
BikePortland: Why are you out here?
"We haven't had good raises in quite a while. And every time it comes up for bargaining, the city's basically like, 'We'll catch you next time. Things are tough. Work with us, we'll catch you next time.' And then next time doesn't seem to come. So we're digging in this time, it's time for a change."
How long before bike riders might see an impact from the strike?
"I don't think it will take too long. I mean, there's a lot of work that gets done here behind the scenes, and people don't notice the work getting done, but they're going to notice when it doesn't get done."
What do you want to tell PBOT management?
"Keep up with inflation at least, instead we're going backwards… There's a lot of people here that work here that can't even afford a house. And we're forced to live with sky-high rent prices. A lot of the policies they've put in place raise the cost of living around here… and we're just stuck with the results. And we're kind of eating crow out here. You know, every time we go to the grocery store, every time we pay a rent check."
What do you feel when you hear PBOT say their budget is in dire straits and they have no money?
"Every Monday another list of white collar jobs that are well over $100,000 come out, brand new positions with made up titles that you've never even heard of. And they have no problem coming up with jobs that pay $120,000 to $150,000 a year. But the people out here on the streets are actually doing the work that are fixing the signs that, fixing the roads, putting in sidewalks — they just want some money that keeps up with inflation, but the city acts like they're broke. You know, it doesn't seem like it. The city seems to always have plenty of money anytime they want to do a pet project, some kind of you know, goofy new idea or something. There's always money for that. There's always money for new trucks and new equipment, but yet to pay the workers out here that are actually doing the work a fair wage, all of a sudden now they're broke. Doesn't make sense. Doesn't make sense at all."
---
A worker on the night shift street cleaning crew:
How will this strike be felt by people who bike on Portland streets?
"On night shift tree cleaning, we clean a lot of the bike paths and whatnot. That's part of our job. Basically, that would affect you guys directly. You'd notice an impact immediately Immediately. There's broken bottles and glass every night downtown and whatnot. We spend a lot of time downtown. And every night it's like we started all over again."
How much confidence do you have in like the city's plan to plug in replacements? Do you think that's a feasible way to make the work continue during the strike?
"No I don't. We deal with a lot of stuff. There's a lot of safety issues and traffic issues involved. There's a lot of experience that's developed over the years to doing this job. We deal with homeless people, we deal with transients, we deal with garbage that's thrown into the street — stuff like that. There's a lot of people who don't want to do that kind of work."
PBOT can make a strong case that their budget is dismal and they don't have the money to pay you what you want. How do you feel when you hear that?
"Well, in relation to my own salary, when I compare it to what they get in the offices and whatnot, you know, there's no comparison at all. They always scream that we're out of money when it's time for new contracts and stuff like that. But yet in the office, they always manage to get theirs. I just like to see little fairness across the board."
---
A heavy equipment operator:
What do you think, in relation to these salary negotiations, when you hear that PBOT's budget is in serious decline?
"I'll tell you what I read. The City of Portland just got $20 million for 122nd. And that means bike lanes, bump outs, islands. And when are they going to get all that done?"
I turned my mic off at the request of this last person and we had a nice conversation off the record. She wanted to ask me about why bike riders do certain things and I was happy to be the cyclist translator for her (a role I often fill in these situations). At the end of our conversation, she smiled and said, "I just hope they can come up with a reasonable and fair wage for us. We're just out here waiting. Patiently. We got a barbecue going. We're having fun out here!"