A Portland woman suffered facial fractures, a concussion, and other injuries after allegedly being hit by a man riding an electric scooter in the Sullivan's Gulch neighborhood Monday night.
BikePortland reader Casey Taylor contacted us yesterday with the sad news about his partner, Candace Barboza. According to Taylor, Candace was riding home from her job as a bicycle courier and was headed northbound on NE 26th crossing NE Wasco when, "A guy on an electric scooter ran his stop sign causing Candace to hit her brakes and go over her bars."
Candace's face and shoulder took the brunt of the impact. Her knees and hands were also cut and bruised. After a trip to the hospital they found out she received fractures under her eyes (cheekbones) and in her nose, a broken tooth and a concussion (she was wearing a helmet).
Beyond his partner's injuries, Casey says the big headache now is dealing with the administrative aftermath of insurance claims and bills. He's set up a GoFundMe to help with expenses.
As we shared after another scooter collision back in August, collisions like this fall into a legal and insurance grey area. Casey said he was advised to treat this like a motor vehicle collision and the claim was filed against the scooter riders' insurance. "The catch is, he's not even old enough to drive and has no insurance. His mom is trying to file a claim with her insurance but it is not likely that will work. My insurance should help but I am not sure how much."
Given that Candace went to the hospital and reported her injuries being caused by a scooter rider, it's likely the crash data will be captured by the Portland Bureau of Transportation. (If not, it can be reported to PBOT via e-scooter@portlandoregon.gov.)
I haven't confirmed whether or not a police report was filed and/or if the scooter operator will be cited for his role in the collision. I'll update this post when/if I learn more.
Here's that link to Candace's donation page again.
UPDATE, 12/18: A fundraiser party for Candace is planned for Friday 12/20 at the Chrome store (425 SW 10th Ave) from 7:-9:00 pm. There will be a raffle and auction with prizes provided by Western Bike Works, Stillpour, Chrome, and N.U.T.R.I.A. and then an after-party at Wildwood 1955 W Burnside St.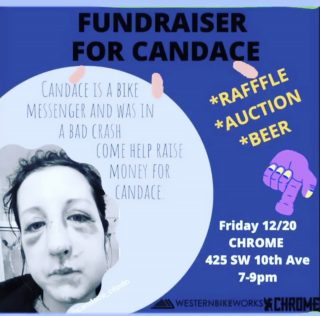 — Jonathan Maus: (503) 706-8804, @jonathan_maus on Twitter and jonathan@bikeportland.org
— Get our headlines delivered to your inbox.
— Support this independent community media outlet with a one-time contribution or monthly subscription.