Metro staff has given us the clearest picture yet on what they'd like to see funded if a new transportation spending measure passes on next November's ballot. Yesterday they released a recommendation of 68 projects worth over $3.1 billion (PDF) that would be spent across Washington, Clackamas, and Multnomah counties.
Among the projects are major bus (and related) service enhancements on some of our region's deadliest arterials including TV Highway, 82nd, and McLoughlin — all of which are owned and operated by the Oregon Department of Transportation, who've been stubbornly resistant to ceding power over them for years. In what appears to be a major coup, Metro has garnered ODOT's approval for substantive changes. The investments would be a crucial step toward the long-sought jurisdictional transfer of 82nd Ave from ODOT to PBOT.
The projects are grouped within 13 corridors that were identified and prioritized after eight months of work by a 35-member task force and "local investment teams" from each county. Metro staff also spent six months working with a consultant (Kittelson & Associates, Inc) and partner agencies including the Oregon Department of Transportation (ODOT) and held a series of technical workshops to come up with the list. In addition to values like equity, safety, economic growth, congestion mitigation, and so on, Metro staff weighed things like project feasibility (a.k.a. is it "shovel ready"), whether or not something was in an existing plan, and whether it had existing funds that could be leveraged.
Metro says the $3.1 billion has the potential to leverage $2.1 billion for a total investment of $5.2 billion. This is considered just a starting point meant to address the most pressing needs of the regional transportation network.
The SW Corridor is the biggest ticket item at $975 million. Metro says those funds could be used to build out eight projects, including "continuous high quality sidewalks, protected bike lanes and crossings on Barbur between I-405 and the Barbur Transit Center."
Of the nearly 70 projects recommended there are only a few that are solely focused on new roads or increasing capacity for drivers. One project, estimated to cost $40 to $54 million would build a new, 1.25 mile road to connect SE 172nd to 190th. The road would include sidewalks, bikeways and roundabout to "create a continuous Clackamas to Columbia corridor." A Metro source says Clackamas County proposed this project with four driving lanes, but Metro's recommendation would pay for only two driving lanes.
The Sunrise Corridor is also recommended to the tune of $70 million. While that ODOT project gives transportation reformers heartburn, a closer look at Metro's recommendation shows they plan to fund only project development/design (not construction) of a new three-mile section that would have a parallel multi-use path. $10-$12 million of the project would fund new sidewalks, bikeways, and crossings on Highway 212.
The recommendation would significantly change some of our region's deadliest arterials. Tualatin Valley (TV) Highway, 82nd Avenue, and McLoughlin Blvd (99E) would all see a major investment in transit service. Metro wants to spend $53 million on improvements on 16 miles of TriMet Line 57 between Beaverton and Forest Grove. 82nd Avenue would get $113 million that could lead to bus rapid transit between Killingsworth and Clackamas Transit Center. On McLoughlin between Milwaukie and Oregon City, Metro recommends up to $102 million for enhanced transit.
$30 million of the $370 million recommended for 82nd Avenue would go toward bringing the road up to a "state of good repair". This step is necessary before ODOT will hand over control of the street to PBOT.
You might notice these are ODOT-owned arterials, which puts Metro in an interesting position: Since Metro doesn't own any of these roads, they're reliant on partner agencies to implement projects. If you think it's hard to fathom ODOT allowing PBOT or Washington County to make such dramatic changes to state arterials, rest assured that ODOT is on board. Not only was the chief of staff for Oregon Transportation Commission Chair Robert Van Brocklin involved in the selection of these projects, Metro says they've received assurance ("from the highest levels") that ODOT will permit these changes and allow agencies to use a new set of "urban design standards" that are currently in draft form as ODOT updates its Urban Design Manual.
Another star in Metro's recommendation is the Portland Bureau of Transportation's Central City in Motion plan. If the measure passes, it would be completely funded at a level higher than PBOT has estimated. All 18 CCIM projects would cost about $72 million to build, but Metro would give PBOT $80 to $92 million. Given that PBOT has already raised some funding for this project, the new investment could lead to better quality facilities and/or larger project scopes.
At the outset of this process, Metro staff was directed to not consider freeway projects. That allowed them to look at the Rose Quarter without consideration of ODOT's existing I-5 widening project. Metro has recommended $55 million to kickstart the Albina Vision project — $12 million of which would go toward planning and the rest toward five individual projects focused on biking, walking, and transit on surface streets (see below).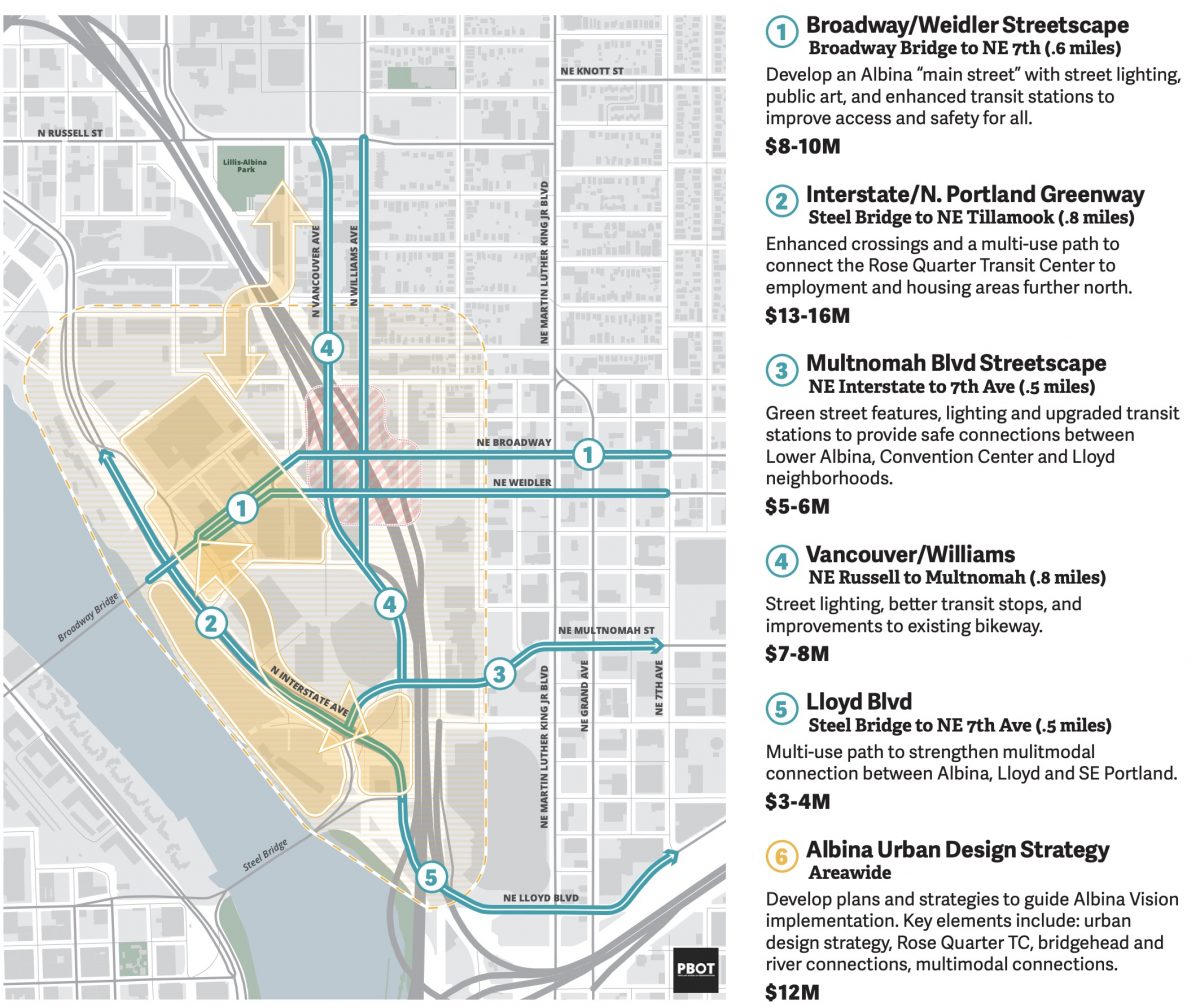 Because displacement often occurs along with transportation investments, Metro would invest 2% of each corridor's funding to prevent it.
Keep in mind this is only a first step for T2020 investments. These projects are only the "Tier 1" corridors and Metro says they'll begin working on Tier 2 projects in January. Metro is also creating a budget for programs that could be used to fund projects outside of identified corridors.
From here, the T2020 Task Force will discuss these recommendations at their October 30th meeting and vote on them on November 20th. They'll take up the challenge of finding the best revenue mechanisms to pay for it all at their meetings in December and January.
— Jonathan Maus: (503) 706-8804, @jonathan_maus on Twitter and jonathan@bikeportland.org
— Get our headlines delivered to your inbox.
— Support this independent community media outlet with a one-time contribution or monthly subscription.