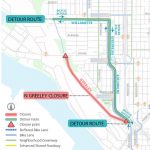 The City of Portland is finally building a new path on North Greeley Avenue that's been nearly three years in the making.
We first reported news of PBOT's plans for a protected path on Greeley in February 2017. After several delays, PBOT now says construction has begun and the $1.8 million project will be complete by winter or spring of 2020.
Greeley is a high-speed arterial and major freight route that connects downtown to Swan Island and St. Johns. The existing bike lane crosses an I-5 freeway on-ramp (in the southbound direction) and many people find it pretty terrifying to ride in. Here's how the northbound bike lane looks today:
The project will shift the bikeway to the east side of the street with a diagonal (signalized) crossing at Going Street at the northern end. A new, 12-foot wide, two-way bikeway will be built and it will come with a continuous concrete barrier to separate bicycle users from car and truck drivers.
In addition to the start of construction, PBOT has also announced that bicycle riders need to use a detour to avoid the Greeley work zone. The detour route is to use North Interstate and Willamette Blvd.
See the official project website for more details.
— Jonathan Maus: (503) 706-8804, @jonathan_maus on Twitter and jonathan@bikeportland.org
— Get our headlines delivered to your inbox.
— Please support this independent community media outlet with a one-time contribution or monthly subscription.