Here's something that doesn't happen very often: Instead of backlash over a transportation project on a major arterial, Mayor Ted Wheeler and his fellow commissioners heard praise.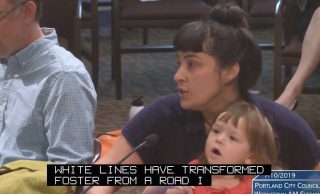 At this morning's City Council session, four people who represent Foster-area businesses used the open testimony period to share appreciation for the city's Foster Transportation and Streetscape Project. Years in the making, the project was completed last month.
A notoriously fast and dangerous "freeway" (a term former Mayor Sam Adams once used to describe it), there was always a wonderful commercial shopping district just waiting to emerge from the din and dust of all that automobile supremacy. Since PBOT changed the lane configuration to create dedicated spaces for cycling and walking and less space for driving, the potential of this street that's home to over 200 businesses has finally been realized.
Jillian Sevick owns the Hammer and Jacks toy store and play area on SE 64th and Foster. With her 5 and 2-year old in her arms she testified this morning that the project has changed the street for the better. "My family and I regularly travel the Foster corridor by bike, car, transit and foot," she said. "I have spent many years biking in Portland and I have to say the wide lanes, the green boxes, and the double-white lines have transformed Foster from a road I would have never considered biking on, to a pleasure."
"Day-in and day-out," Sevick continued, "families walk through my door who a year ago would not traverse Foster and now walk to shops, out to coffee, for groceries, or simply for fresh air. Creating a more pedestrian-friendly pace has directly correlated into making Foster feel safer, more family- friendly, and more inviting. Thank you."
Another noteworthy result of the project Sevick called out is how people can now move around after parking curbside without being "pinned against our cars and honked at while trying to retrieve wriggling children."
Another business owner, Matthew Micetic of Red Castle Games (and a former president of the Foster Area Business Association) planned to testify but was unable to make it. Venture Portland Director Heather Hoell spoke on his behalf. After praising the project, Micetic's testimony read, "Some car drivers have unfortunately rejected the new safer Foster and we're seeing increased instances of protest driving in bike lanes and other unsafe behaviors." Micetic requested a 90-days of increased enforcement by the Portland Police Bureau (Mayor Wheeler said he'd raise the question with the Chief and East Precinct).
— Jonathan Maus: (503) 706-8804, @jonathan_maus on Twitter and jonathan@bikeportland.org
Never miss a story. Sign-up for the daily BP Headlines email.
BikePortland needs your support.