We need your help to find suspects of an attempted assault and dangerous pass in Washington County that happened this past Saturday (6/22).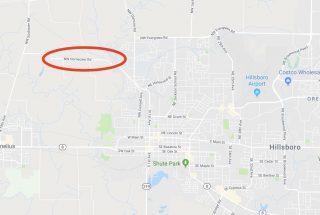 Hillsboro resident Hank Bosak was riding on NW Hornecker Road at around 2:00 pm on Saturday when the driver of a black or dark blue sedan passed him very closely. When Bosak returned home and watched video taken via his on-board cameras, he was shocked to see that there was a knife in the outstretched arm of the car's passenger.
Bosak initially intended to file a citizen citation (using the procedure outlined in Oregon law), but when he saw the knife he immediately got a lawyer and contacted the sheriff's office.
According to Ray Thomas with the Portland-based law firm Thomas, Coon, Newton & Frost*, this is the second time Bosak has had a dangerous run-in with a driver in rural Washington County. In 2004 (in a case that Thomas also worked on) he was the victim of a hit-and-run on nearby NW Susbauer Road that left him with multiple fractures and internal injuries. Bosak recently mounted front and rear GoPro video cameras on his bike so he'd have more evidence if/when he ever found himself in a similar situation. Unfortunately that time came on Saturday.
Thomas said Bosak was riding on Hornecker Road when he checked his handlebar mirror and saw a driver move his car toward him as he rode on the fog line. "The car passed Bosak at what seemed as close as a foot to him at about 45 mph," Thomas shared with us via email today. "Hank yelled but the car occupants kept going and disappeared in the distance."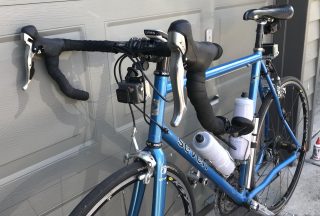 Thomas says the video Bosak downloaded when he got home clearly shows a man lean out of the car's window with a large knife in his hand in a position to stab him. After he called Thomas for legal advice, he also filed a formal criminal complaint with the Washington County Sheriff's Office. The case has been assigned to Deputy Kenneth Coon (no relation to TCN&F law firm) with case number 50-191740742. Thomas says Deputy Coon ran the plate number from the video and learned that the car had been sold and the new owner had not yet registered it with DMV (which is against the law).
Since the car can't be traced to a current owner or address, at this point all we have are the images and video from Bosak's GoPro, the license plate number, and the make/model of the vehicle. "It is important that the images be circulated and an identification of the young men involved before they succeed in hurting someone," Thomas says.
If you've seen this car and/or have any information about the driver or passenger — whether related to Bosak's case or not — please call Deputy Coon at (503) 846-2700 and refer to case number 50-191740742.
*DISCLAIMER: Thomas, Coon, Newton & Frost is a financial supporter of BikePortland.
— Jonathan Maus: (503) 706-8804, @jonathan_maus on Twitter and jonathan@bikeportland.org
Never miss a story. Sign-up for the daily BP Headlines email.
BikePortland needs your support.