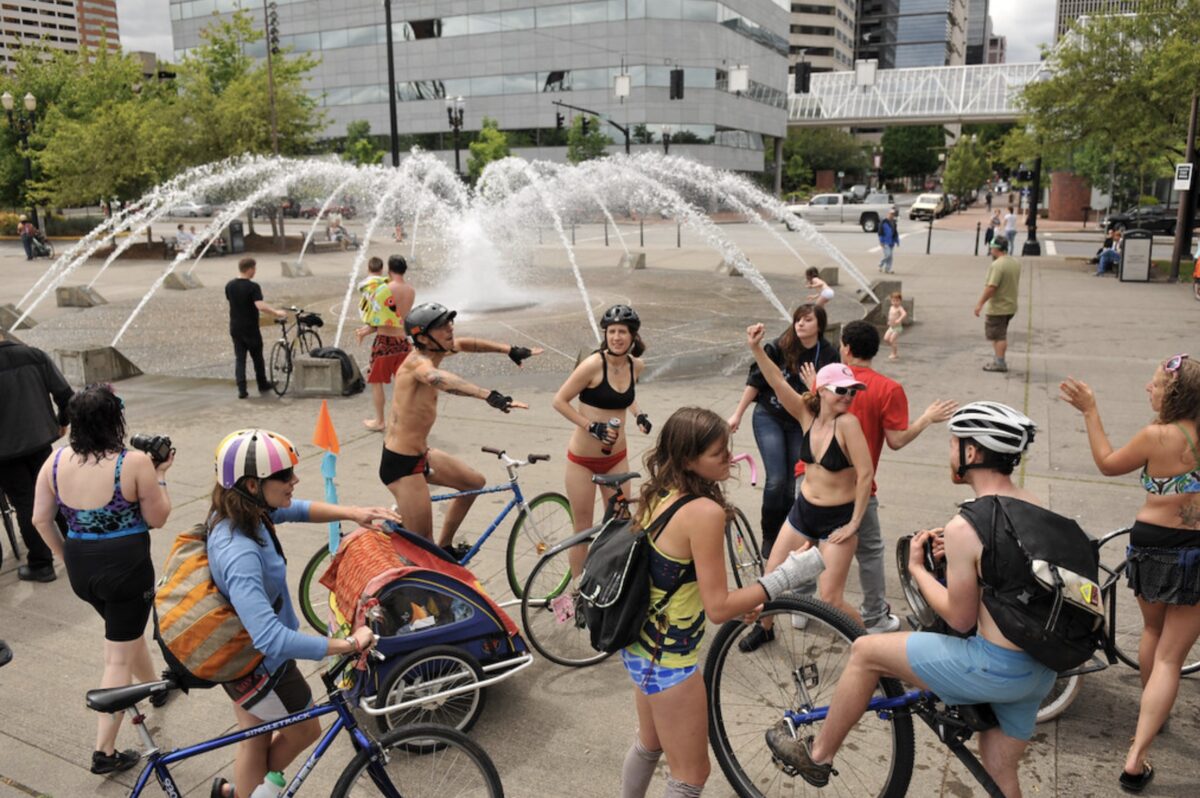 It's the middle of June, the middle of Pedalpalooza, and the middle of a warm weather trend. This weekend is likely to be truly epic.
To help you make plans, we've got a selection of rides and events below. Have a great weekend!

Friday, June 14th
Diablo's Wild Ride – 8:00 pm at Devil's Point (SE)
The 10th annual party ride led by the inimitable Diablo is sure to press all your fun buttons. More info here.
Midnight Mystery Ride – 11:30 pm at Hopworks Pub & Beergarden (N)
It's June, so it'll be the biggest MMR of the year. More info here.
Saturday, June 15th
Skull 120/60/30 – All day in Burns
I'm headed east to Burns for the annual Skull 120, what organizers say is the toughest gravel race in the country. I can't wait! More info here.
Group Ride! – 10:00 am at Tough Luck (N)
Meet and train with fellow Cycle Oregon fans at this monthly series of rides sponsored by Bike Gallery and Nossa Famlia Coffee. More info here.
Read and Roll Bookstore Crawl – 12:00 pm at Sewallcrest Park (SE)
Join Joe "Metal Cowboy" Kurmaskie for a leisurely, 8-mile loop that will stop at six independent bookstore to browse and learn about the history of each one. More info here.
Splish! Splash! Wet Portland Ride – 2:00 pm at Jamison Square (NW)
A proud local tradition, this ride will visit several of our best fountains to sample the water. Wear your bathing suit! More info here.
Sunday, June 16th
Milwaukie to Oregon City on the Trolley Trail – 10:00 am at Milwaukie Bay Park
If you've been wanting to ride south of the city and discover this gem of a path, here's your opportunity. 20-mile loop and no one will be left behind. Includes a ride on the municipal elevator in Oregon City! More info here.
Live Freeways Ride – 11:00 am at Goose Hollow MAX Station (SW)
Join a knowledgable ride leader John Russell and ride on 25 miles of local freeways from Portland to Oregon City. More info here.
Storytime Ride – 11:00 am at Woodlawn Elementary School (N)
Local artist (and Pedalpalooza poster creator!) Cat Odell will lead this family-friendly event in the park. She'll share her new children's book and then the kiddos can ride the fun paths in the park. More info here.
Multnomah County Bike Fair – 12:00 pm at Colonel Summers Park (SE)
A day of silly and fun bike events and camaraderie with fellow bike funnists. Come say goodbye to the Sprockettes and delight in the antics of Olive & Dingo. More info here.
Photo Ride – 6:00 pm at Salmon Street Springs (SW)
Photographer Eric Thornburg will lead this gathering of camera and cycling enthusiasts. Come geek out on lenses and accessories or just show up and be a willing subject for all the photogs. Ride will visit prime photo locations and have a prize for best image taken. More info here.
Full Moon Naked Ride – 8:30 pm at Coe Circle (NE)
Because not everyone can wait for the World Naked Bike Ride. And for what it's worth, I can vouch for the leaders. They're good and fun-loving folks! More info here.
Stay plugged into all the bike and transportation-related events around the region via our comprehensive event calendar.
— Jonathan Maus: (503) 706-8804, @jonathan_maus on Twitter and jonathan@bikeportland.org
Upgrade your inbox: Sign up here to get the Weekend Guide and all our stories delivered via email.
BikePortland needs your support.
Contact Jonathan at @jonathan_maus on Twitter, via email at maus.jonathan@gmail.com, or phone/text at 503-706-8804. Also, if you read and appreciate this site, please become a supporter.