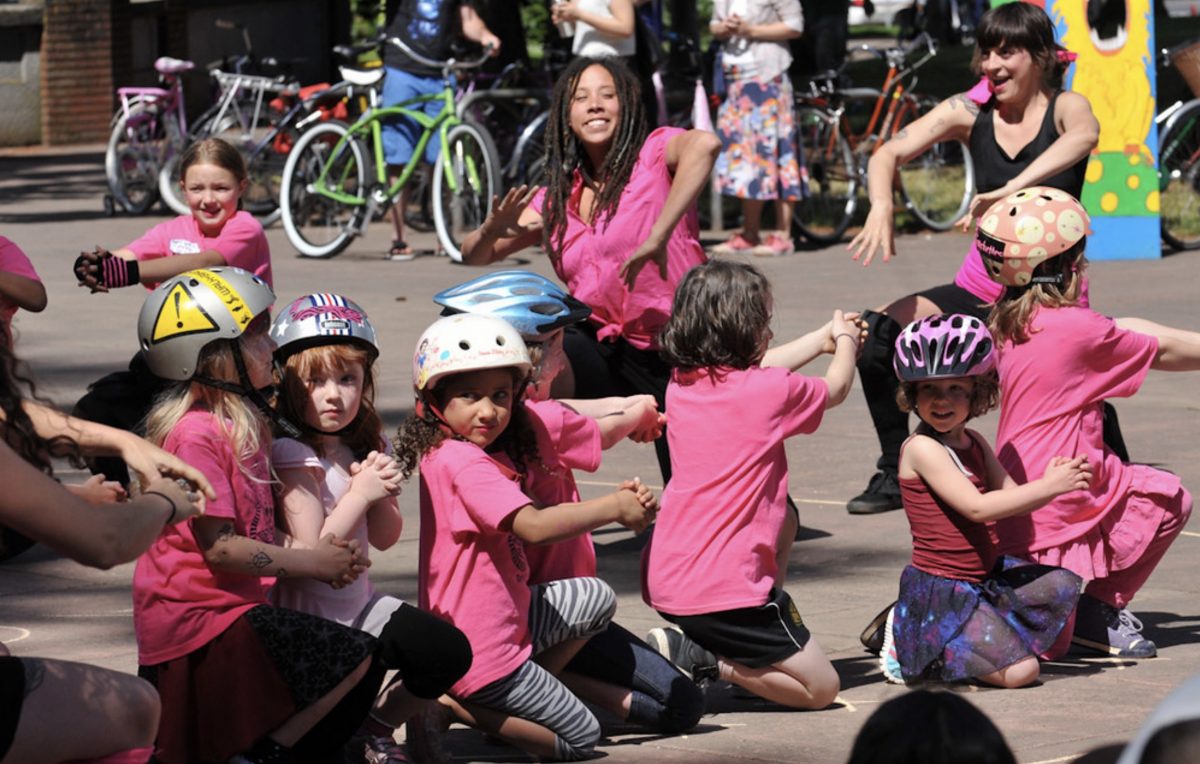 Remember how I said last week's relative quiet was the calm before the storm? Well the storm is here. Pedalpalooza is in full swing and we've got a tantalizing selection of rides for you to choose from this weekend.

Whether you're looking for adventure, activism, pure free fun, or all of the above — check out what's in store. And remember to peruse the full Pedalpalooza calendar for even more rides.
Saturday, June 8th
Ripplebrook Backroads – 9:00 am from Ripplebrook Store in Estacada
If you want to delve deeper into the unpaved roads and trails around Timothy Lake and Clackamas River, this is the ride for you. Let Our Mother the Mountain's route masterminds take you on an unforgettable adventure. More info here.
Fanno Creek Family Bike Ride – 9:30 am at Garden Home Rec Center (SW)
A very short (two-mile loop) and very sweet ride aimed at being doable for even the newest and smallest riders among your troop. Stops at a playground for extra fun. Come out and discover the great Fanno Creek Trail! More info here.
Sprockettes Girls Day Camp (Sat-Sun) – 10:00 am at Irving Park (NE)
The Sprockettes are a Portland-based mini-bike dance team. They're hanging up the pink and black or good at the end of this year so this is your final chance to indoctrinate your kids to their wonderful ways. Camp will teach them basic bike dance/stunt skills in a supportive environment. Sliding scale price is $60-$100. More info here.
Beyond Portlandia Radical History Bike Tour – 12:00 pm at Everybody's Bike Rentals (NE)
Ecology, geology, history and culture! Discover a different side of north/northeast Portland on this 10-mile ride led by knowledgable locals. More info here.
Brooklyn Scavenger Hunt – 1:00 pm at Brooklyn Park (SE)
Have fun while demonstrating your knowledge of the Brooklyn neighborhood as you fulfill interesting objectives and post proof of completion to Twitter. Prizes await the winners and everyone gets to imbibe and eat with new friends at the end. More info here.
Teenage Dirtbag Ride & Party – 8:00 pm at Laurelhurst Park (NE)
What's Pedalpalooza without big dance party ride? Roll up and rock out with tunes from the likes of Blink, Lit, Len, Green Day, Weezer and all the other "dirtbag classics". More info here.
Sunday, June 9th
Ghosts of Northeast's Past: A History Ride – 10:00 am at McMenamins Kennedy School (NE)
Led by historian Doug Decker, this 8-mile ride will regale you with stories of northeast Portland neighborhoods known by only a few and mostly invisible to the untrained eye. More info here.
Mural Ride – 11:00 am at Clay Creative parking lot (SE)
Public art on walls is endlessly fascinating and usually beautiful. If you agree with that statement, get ready to ride your heart out with two fellow mural lovers. More info here.
Sunrise PDX Pedalpalooza Climate Ride! – 11:00 am at PSU Plaza (SW)
Come and join the growing movement that is connecting climate change and transportation reform activists into an unstoppable force. This ride will include a rally with speakers at the Zenith oil terminal just a few short miles from downtown Portland. More info here.
Pregnant AF – 12:00 pm at Normandale Park (NE)
Baby on board? Come join others in the same situation. Bike with your bump on this flat ride that will end in a picnic. More info here.
Get Lost! – 1:00 pm at Velo Cult parking lot (NE)
A Pedalpalooza mainstay, this ride takes the form of whatever the dice say. Seriously. Leader will roll two dice to determine how many blocks left or right to ride. Where you stop and go, nobody knows! More info here.
Stay plugged into all the bike and transportation-related events around the region via our comprehensive event calendar. Pedalpalooza is the entire month of June. Check out the full list of events on the official calendar.
— Jonathan Maus: (503) 706-8804, @jonathan_maus on Twitter and jonathan@bikeportland.org
Upgrade your inbox: Sign up here to get the Weekend Guide and all our stories delivered via email.
BikePortland needs your support.