With its second year in the books, it feels like the Gravel event has found a home with Cycle Oregon. After three decades of their signature, 7-day "Classic" event, the nonprofit has found a sweet spot around one of cycling biggest trends: riding unpaved backroads, a.k.a. gravel grinding.
The tiny eastern Oregon town of Dufur (est. 1893, pop. 604) was home base for two full days of riding. The routes traversed land where the Molalla Tribe lived for generations before being banished to a reservation by the U.S. government in 1851. Today the land around Dufur is wide open country dotted by farms that raise livestock, wheat, and other crops.


After riding the Sasquatch Duro in Oakridge on Saturday, I opted to come home via Dufur so I could check out day two of the Gravel event. I showed up Saturday night just when the excellent band Greater Kind (brought in from Portland) fired up their instruments.
The vibe was classic Cycle Oregon, only on a much smaller, more intimate scale. The week-long ride is like a small city with about 2,500 people buzzing around in every direction. You could know someone on that ride and not see them for the entire week. But at Gravel, the crowd is much smaller. You could almost see everyone with a quick glance around.
When I got there, the free beer and wine were flowing and a big crowd had formed around the "Whiskey Wagon," a booze cart wheeled in from north Portland. This mobile bar was serving two very popular items: distilled beverages and a live feed of the Portland Trail Blazers playoff game.
Sponsored by:
These companies make our gravel coverage possible.
While tempted to party all night, tired legs from day one (everyone talked about how tough it was) encouraged most campers to their tents at a sensible hour. There was another big day of riding just a few hours away.
The land between Highway 197 and the Deschutes River was made for cycling on. The roads, paved or unpaved, follow the organic undulations of the round hills and valleys. And the views go for miles. When it comes to the gravel rating, this area falls squarely into the luxury category. But on Sunday, a smattering of rain showers downgraded that rating — or upgraded it if you like getting dirty.
About half way through the 63-mile long course, Roberts Market Road turned into a mix of wet sand and slick peanut-butter mud. It lasted for only a mile or two, just long enough to completely cover the bottom half of bodies and bikes (unless you had fenders of course). But no one was looking down because the sun eventually punched through the clouds and the views were magnificent. Crop colors popped as the wide and empty roads unfolded in front of us.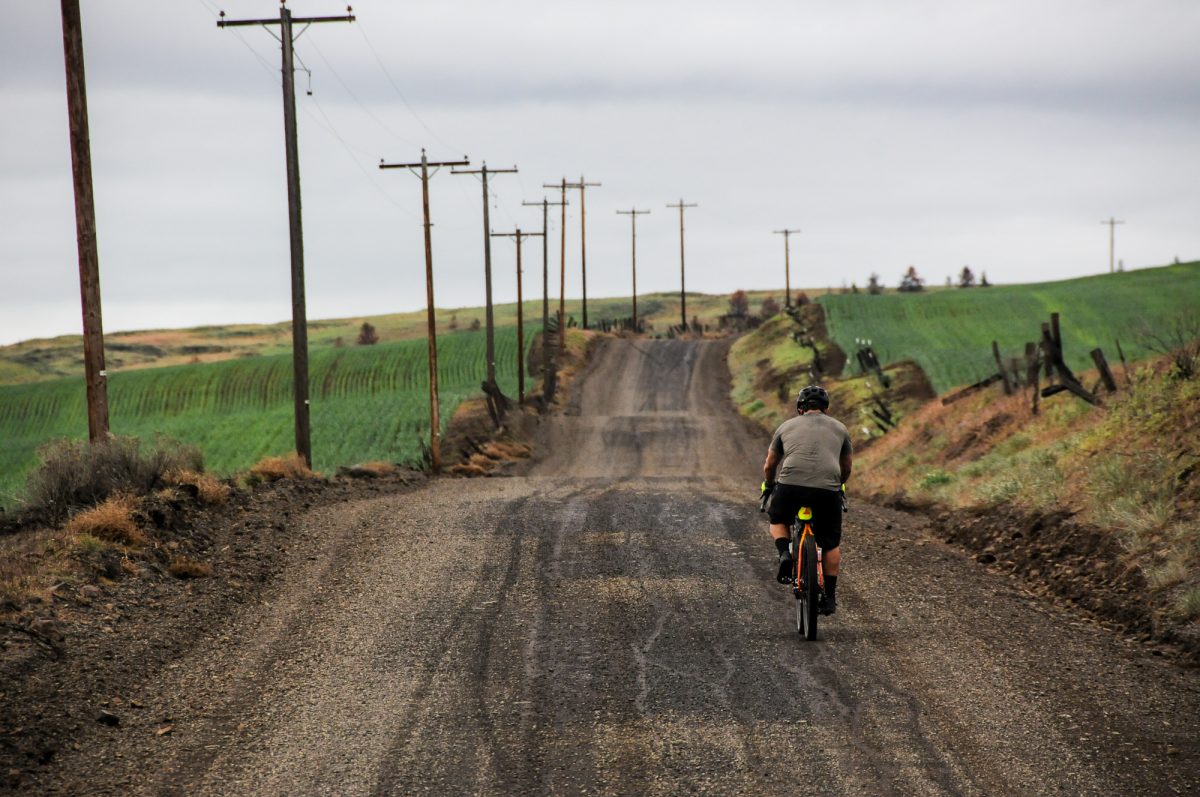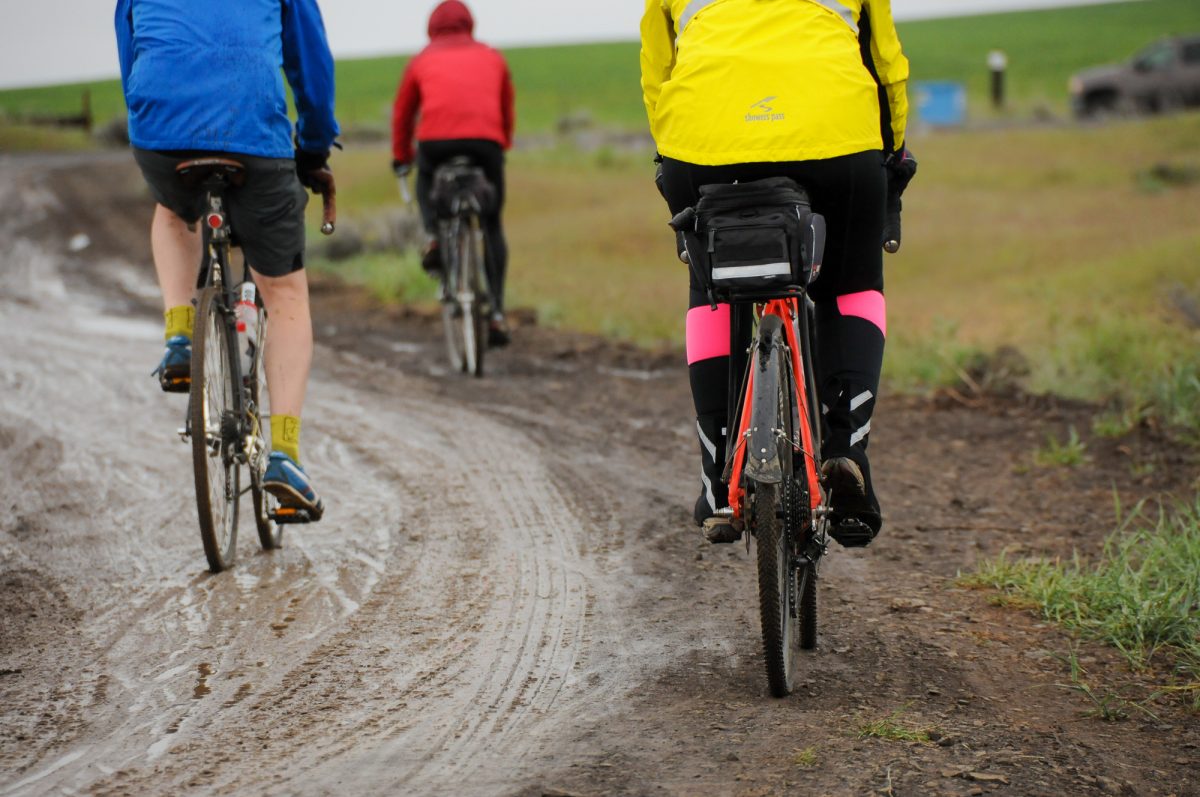 It was a great day in the saddle. With their gentle grades, rewarding vistas, and nearly carfree solitude, the roads around Dufur offer quintessential Oregon conditions, whether you're a gravel connoisseur or just trying it for the first time. And many Gravel participants were doing just that. Several people I talked to were yet to buy a "gravel bike", they simply grabbed something with tough tires and decided to see what all the fuss was about. I'm pretty sure they're hooked.
— Jonathan Maus: (503) 706-8804, @jonathan_maus on Twitter and jonathan@bikeportland.org
Never miss a story. Sign-up for the daily BP Headlines email.
BikePortland needs your support.