Last week I took the corner into my backyard too slowly, caught my front wheel on a flagstone, and slowly tipped sideways against the side of my house. As time slowed down and/or my brain sped up in the heat of the moment, I thought about my crashes of years past.


Our Family Biking column is sponsored by Clever Cycles.
➤ Read past entries here.
I've read that the most common type of bicycle crash is a solo crash. I find this hard to believe, but I've had my share of solo mishaps. All but one* of these solo crashes left me unscathed so they are not reported in whatever data set declared solo bike crashes so common.
No kids nor dog were on my bike during this most-recent little crash, and my heavy groceries (including eggs!) were all fine. I didn't event rip my thin flannel shirt or scrape my shoulder that slid along the rough siding of my house. But the impact of the impact was enough to make me realize I should talk about family biking crashes.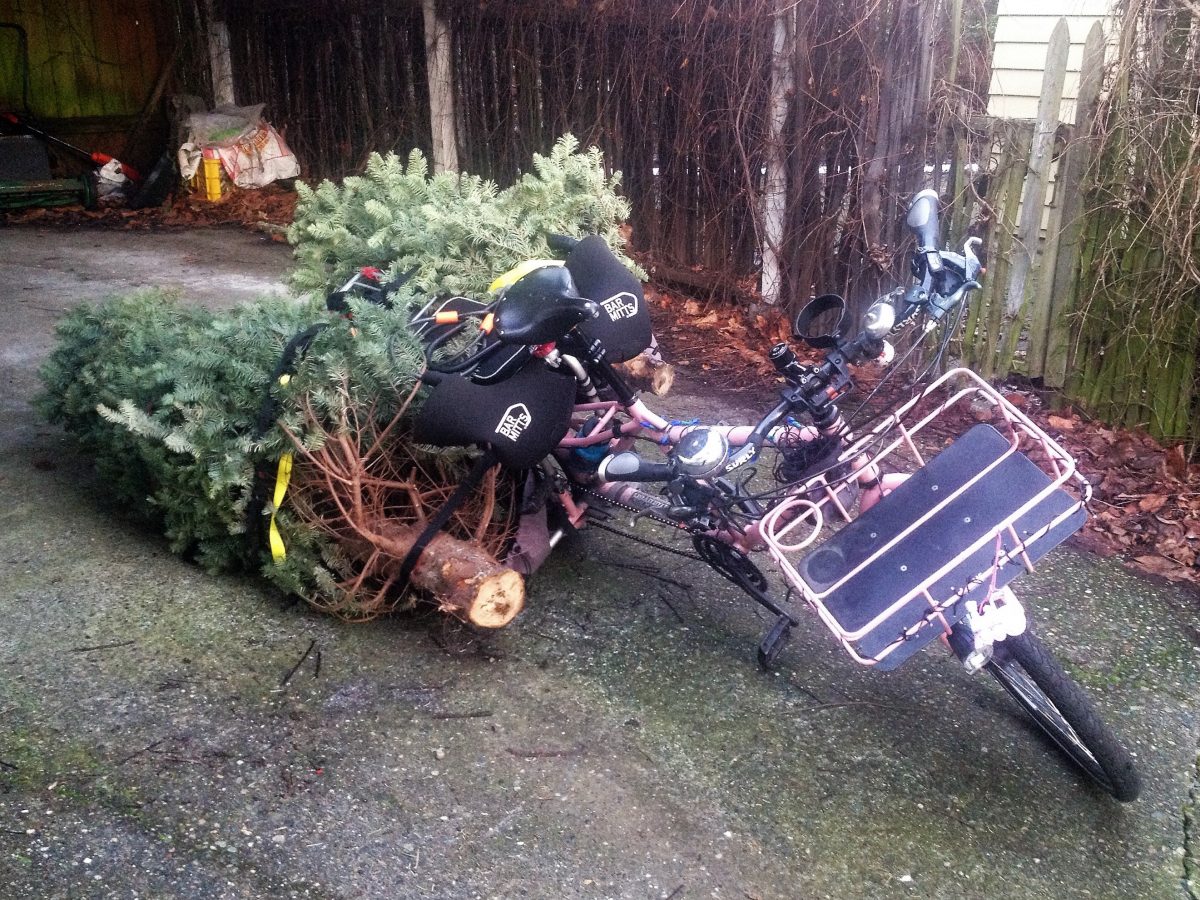 Family bikes are heavy. And then you add the weight of kids to them. And then you add the weight of kid stuff (snacks, toys, extra clothing, precious new-found sticks and rocks, more snacks, favorite book, etc…) on top of that! Once they're rolling, bikes are easy to keep upright, but at very slow speeds heavy bikes can be tricky. Other than two slips on black ice, my crashes have been on account of speed — too little of it. I've dropped my bike while walking it along and while maneuvering it to park, most notably in front of a crowd of toddlers and their families at our local fire station open house. I've also tipped over while moving too slowly — while trying to get started from a complete stop, while coming to a stop, and while climbing too steep a hill. These aforementioned crashes all happened while my two kids were on my cargo bike, by the way, and they were fine…as well as too young to be embarrassed by my clumsiness, phew.
I have good bike handling skills — oh, which reminds me of another crash, a rare one when the kids weren't on my bike. They were two and four and pushing their balance bikes in intersecting S curves while I followed along on my cargo bike. They were having a terrific time on a Waterfront sidewalk, as was I, playing footdown and patting myself on the back at how following their chaotic progress at such slow speeds while dodging their little bikes was doing wonder for my bike handling skills. But then my front tire slipped off the concrete sidewalk into a tree planter and down I went.
I'm not predicting all family bikers will have crashes like this, but you're not alone if you do. In a closed Facebook group about family biking in my former city of Seattle, we sometimes shared these stories and took comfort in knowing we weren't alone in our mishaps.
I don't want to imply my kids are so used to my dumping the bike that it doesn't faze them, but when I loaned my kids to a friend at the 2013 Fiets of Parenthood and her bakfiets tipped over, they calmly sat horizontal, my little one motioning her to "Pass me the grocery bag from the obstacle stop already, the clock is ticking!" as she righted the bike. Oh, that reminds me of another crash at the 2010 Seattle Fiets of Parenthood when I started tipping over at the berry picking obstacle station, but a bunch of people ran over and righted us before we hit the ground. It takes a village! And kids are resilient and will be OK if you happen to drop your bike.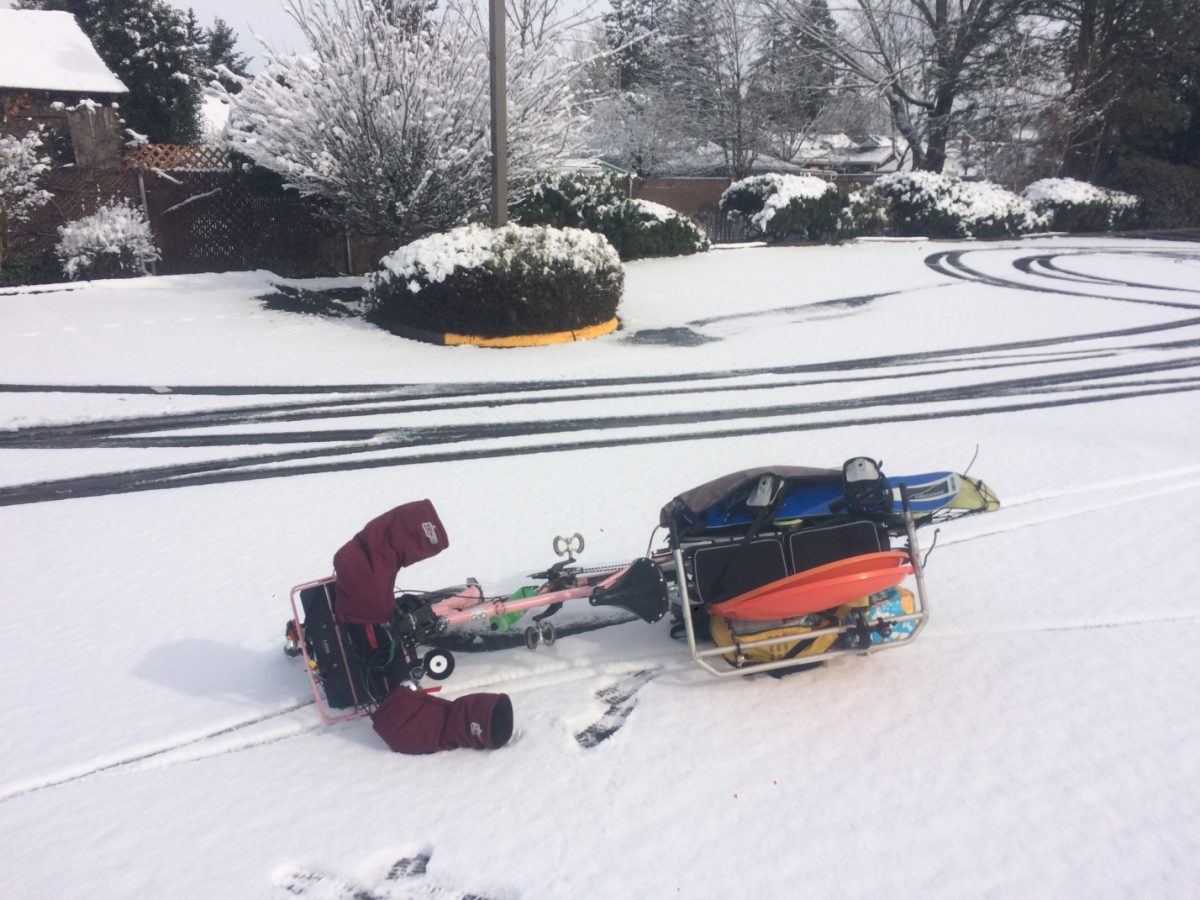 ➤ E-bikes to the rescue?
I should point out that an e-assist can help avoid — and possibly even prevent — these common little crashes. Bikes like the Surly Big Easy I borrowed and reviewed that have a "walk assistance mode" provide a small boost at the push of a button while walking the bike. Useful for any heavy bike, and especially when walking uphill. E-bikes with a throttle or boost button (which is essentially the same thing as a throttle, but at the push of a button rather than a twisted grip) that provide assistance on demand without pedaling are incredibly helpful for getting started from complete stops and climbing steep hills.
I can appreciate that others might not want to share any mishaps in a public forum like this, but if you want a virtual hug or any advice post-crash, feel free to email me at madidotcom [at] gmail [dot] com. Thanks for reading!
*My one and only injury while bicycling was when I was a college freshman and biked too close to the edge of the road and caught my pedal on the curb which led to me sailing over my handlebars and very minorly fracturing my ulna or radius near the elbow. To add insult to injury, it was the last day of Bicycle Safety Awareness Week at UC Santa Barbara.
We're looking for people to profile. I'd especially like to feature families of color so please get in touch or ask friends of color who bike with their kids if they're interested in sharing their stories. And as always, feel free ask questions in the comments below or email me your story ideas and insights at madidotcom [at] gmail [dot] com.
— Madi Carlson, @familyride on Instagram and Twitter
Browse past Family Biking posts here.
Never miss a story. Sign-up for the daily BP Headlines email.
BikePortland needs your support.
Madi Carlson (@familyride on Twitter) wrote our Family Biking column from February 2018 to November 2019. She's the author of Urban Cycling: How to Get to Work, Save Money, and Use Your Bike for City Living (Mountaineers Books).
In her former home of Seattle, Madi was the Board President of Familybike Seattle, a non-profit organization dedicated to promoting bicycling as a means for moving towards sustainable lifestyles and communities. She founded Critical Lass Seattle, an easy social group ride for new and experienced bicyclists who identify as women and was the Director of Seattle's Kidical Mass organization, a monthly ride for families. While she primarily bikes for transportation, Madi also likes racing cyclocross, all-women alleycats, and the Disaster Relief Trials. She has been profiled in the Associated Press, Outdoors NW magazine, CoolMom, and ParentMap, and she contributed to Everyday Bicycling by Elly Blue.