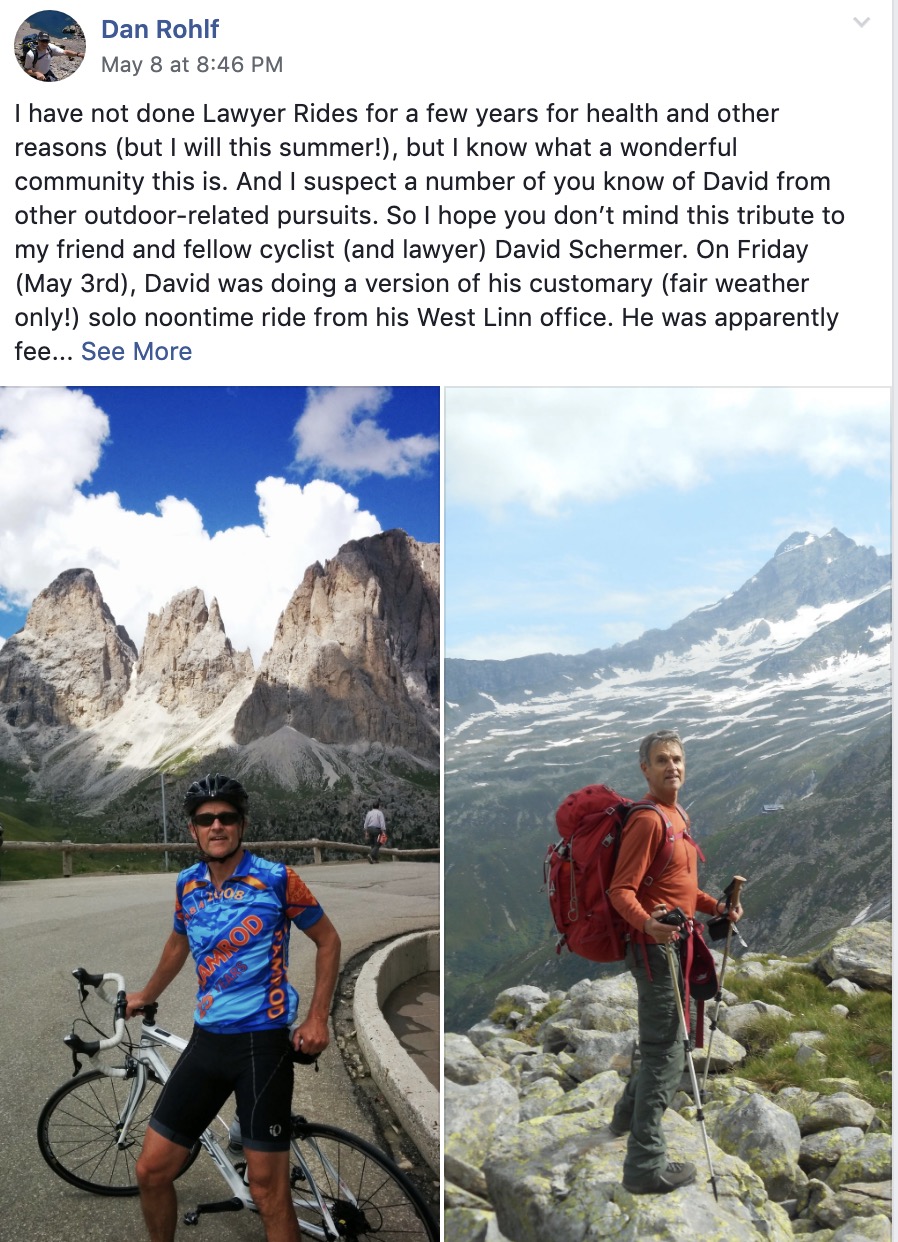 Cycling was a huge part of 69-year old David Schermer's life. All the way up until the end.
Schermer died while riding his Giant TCR road bike down Pete's Mountain Road in West Linn last Friday. According to the Clackamas County Sheriff's Office there was no other vehicle or person involved in the crash. Evidence suggests Schermer lost control on the steep downhill portion of the road where it ends at the junction of SW Riverwood Drive and SW Hoffman Road (see photos below). The turn to Hoffman is nearly a right-angle and the turn to Riverwood is quite sharp as well. The last section of Pete's Mountain Road drops over 100 feet at an average grade of about 7% in just three-tenths of a mile.
Sergeant Dan Krause from the Sheriff's Office told me yesterday that a crash reconstruction and forensics team responded to the scene last Friday around 1:30 pm. Sgt. Krause said they found no skid marks and no other physical evidence of another bicycle or automobile. "It appeared to be an unfortunate incident," he said. "We found nothing at the scene that would have caused this crash." Schermer was found in a ditch about 20-30 feet from the intersection. He died on the scene from head and neck-related injuries.


(Left: Aerial view of the intersection with arrow showing Schermer's direction of travel. Right: Street view looking downhill (southbound) just before intersection of Pete's Mountain Road and SW Riverwood/Hoffman.)
Schermer was a lawyer and had an office in downtown West Linn about seven miles northeast of where he crashed. He was likely on one of his usual lunch rides on roads he knew very well.
I first heard about this when acquaintances of his contacted BikePortland looking for details about what happened. There were no news reports and law enforcement didn't make any public statements about the crash. Then I saw a tribute to him on the Facebook page of the local Lawyer Ride. That tribute was written by Schermer's friend and riding buddy Dan Rohlf.
Rohlf remembered David as an energetic adventurer who loved to challenge himself on the bike. "David died as he lived — going for it in the outdoors, whether on a bike, climbing a mountain, on cross-country skis, or hiking for miles," Rohlf shared on Facebook. "He climbed the Tourmalet like Pantani a few years ago, and ripped passes in the Dolomites. But his idea of a perfect ride was a climb to Council Crest, a few laps on Fairmount and Humphrey/Hewett, then Terwilliger to the Multnomah Lucky Lab for pizza."
"David was just a wonderful guy; he had a smile for everyone, was a fantastic husband, father, and grandfather, and was loved by his family and friends alike… our community has suffered a profound loss," Rohlf added.
Schermer was an avid mountain climber and member of Portland Mountain Rescue. In a statement on their Facebook page today, PMR wrote, "Willing to hump a big load and quietly competent, David was the rescuer you always wanted on your team. Over his tenure with PMR, he logged almost 1000 hours of training and missions. More important, he was generous with kindness and a cheerful word. David, we always knew you had our backs, we just wish we could have been there to cover yours."
He had also ridden the Ronde PDX ride several times. This legendary and unsanctioned ride tackles all the big West Hills climbs. This ride is "officially cancelled" but the word on the street is many people are likely to show up tomorrow (Saturday 5/11) to do it anyways (10:00 am from NW 31st and NW Industrial). If you ride it, keep Schermer in your thoughts. Rest in peace David.
— Jonathan Maus: (503) 706-8804, @jonathan_maus on Twitter and jonathan@bikeportland.org
Never miss a story. Sign-up for the daily BP Headlines email.
BikePortland needs your support.