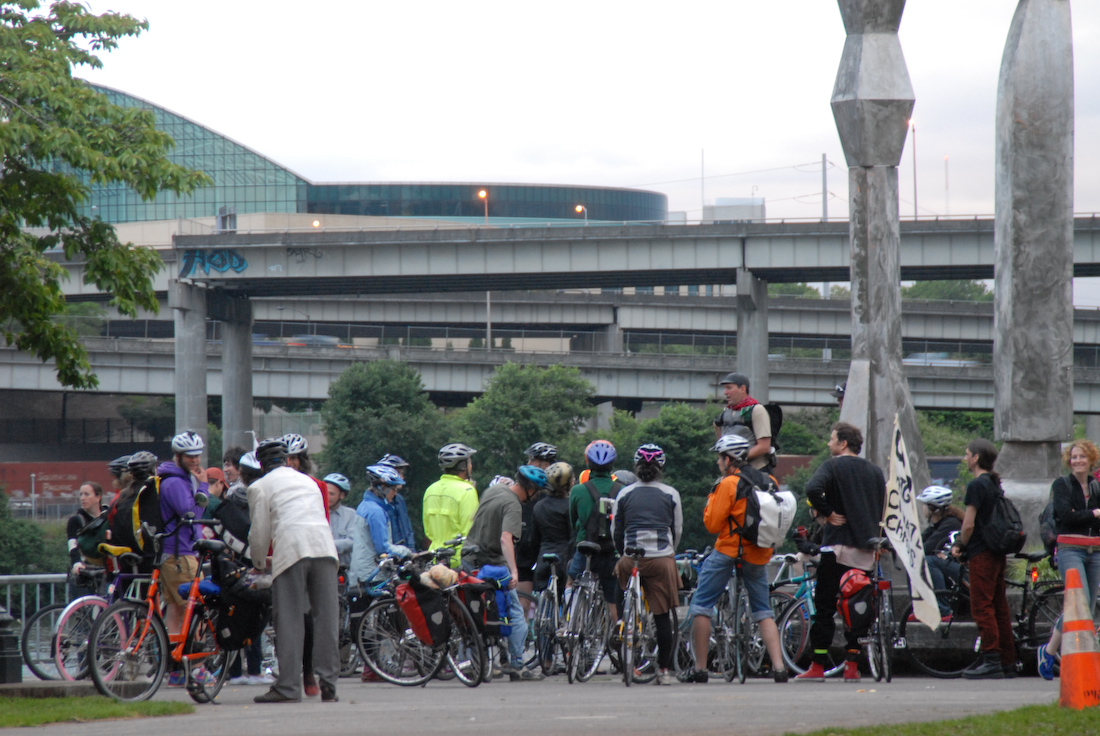 It's almost time to solidify your plans for the weekend. And, while Friday might be a doozy weather-wise, we might get into the 50s over the weekend.
Here's our list of recommendations…

Sales!
We interrupt this guide to tell you about two big sales at two great local bike shops:
— West End Bikes Anniversary Sale: Get 10-50% off everything at this amazing shop located at 1111 SW Harvey Milk Street.
— River City Bicycles Anniversary Sale: It's also celebration time at River City Bicycles. They're celebrating 24 years in business with 10-50% off the entire store.
Friday, March 8th
Broken & Coastal Vol 4 Launch Party – 6:00 pm at Golden Pliers Bike Shop (N)
Broken & Coastal is an indy magazine that you have to see and feel to believe. If you love riding off-road and want to stoke your flame with beautiful words and pictures, you owe it to yourself to check this out. More info here.
Saturday, March 9th
Swap Meet – 11:00 to 2:00 pm at Backpedal Cycleworks (SE)
Roll over to Backpedal's SE Harold Street location to browse, buy, sell and trade your used bikes and parts. No fee for sellers. More info here.
Stub Stewart Trail Work Party – 9:30 am at Stub Stewart State Park (Buxton)
Come out and help NW Trail Alliance dig, chop and smooth out trails to get them ready for prime riding season. No experience necessary. More info here.
Dead Freeways Ride – 11:00 am in Goose Hollow (SW)
Urban Adventure League is hosting this classic Portland experience ride that will take you behind the scenes of our local freeway and highway graveyard. Perfect timing for the weekend before the I-5 Rose Quarter project public hearing! More info here.
Sunday, March 10th
Jack Frost Time Trial – 8:00 am at Vancouver Lake (WA)
Can you believe it? The OBRA road season starts Sunday with this traditional kickoff event. More info here.
Bike Shop Storytime – 11:00 am at Clever Cycles (SE)
Special guest this week is author and illustrator Alison Farrell. Grab the kiddos and head out for a ride with other families afterwards. And don't forget to grill our family biking columnist Madi Carlson for her best tips and tricks. More info here.
Ride to Belmont Goats – 12:00 pm at Irving Park (NE)
Join Tom Howe for a ride to hang out with the Belmont Goats at their new home. The gates have been closed for three months, so I know you are all itching for some goat time! More info here.
Northeast Park Trek – 10:00 am at Wilshire Park (NE)
Ann Morrow from the Portland Wheelmen will lead this 20+-mile ride jaunt that caters to beginner and novice riders who want to learn more about cycling and experience riding with a group. More info here.
Stay plugged into all the bike and transportation-related events around the region via our comprehensive event calendar.
CORRECTION: We got the day for the Bike Shop Storytime wrong. It is on Sunday (not Saturday). Sorry for any confusion this caused.
— Jonathan Maus: (503) 706-8804, @jonathan_maus on Twitter and jonathan@bikeportland.org
Upgrade your inbox: Sign up here to get the Weekend Guide and all our stories delivered via email.
BikePortland needs your support.