This weekly column follows the adventures of Madi Carlson, a carfree mom of two who lives in southeast Portland.

Our Family Biking column is sponsored by Clever Cycles.
➤ Read past entries here.
I don't celebrate Christmas, but having interfaith children and a love of carrying big things on my bike means we still get a tree every winter. My Chanukah candles are part of a regular grocery run so that doesn't pack much punch in terms of biking excitement and tree fetching has become a tradition I really look forward to.
Back when I carried my kids on my bike I'd have to carefully wrap the tree in string or netting so it would fit down in my cargo bag. But now that they're primarily on their own bikes I can just toss a tree up on my cargo deck at full fluff. I do this out of laziness, but it also looks most impressive like so. Not to mention the excess pine needles shake off en route so I can skip the line at the tree shaker.
Over the years we've bought trees near and far. Our closest was five blocks from home, all uphill to get to the tree lot and all downhill to get home. Now we have access to a tree lot one flat mile from home, but we found the most exciting option to date: U-cut Christmas trees accessible by bike! It's five miles to get there from Woodstock, but seven back so I can take a flatter route and not need to stop and rest on the way home. (I don't know the name of the farm, but it's at SE Lake Rd & SE Freeman Rd in Milwaukie.)
Do you have an annual tree-by-bike tradition? Where do you find your tree and how do you carry it?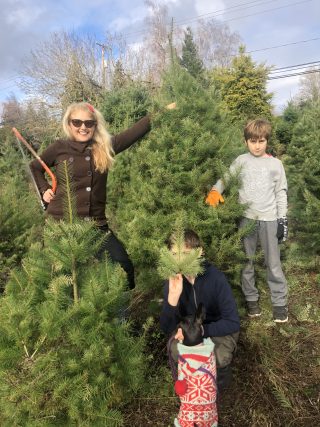 Remember, we're always looking for people to profile. Get in touch if it sounds like fun to you. I'd especially like to feature families of color so please get in touch or ask friends of color who bike with their kids if they're interested in sharing their stories. And as always, feel free ask questions in the comments below or email me your story ideas and insights at madidotcom [at] gmail [dot] com.
— Madi Carlson, @familyride on Instagram and Twitter
Browse past Family Biking posts here.
Never miss a story. Sign-up for the daily BP Headlines email.
BikePortland needs your support.