I first saw this sign on the Instagram feed of UrbanAdventureLeaguePDX and I just had to see it with my own eyes.

Someone who (I assume) lives in the Concordia neighborhood in northeast Portland has posted this notice on a pole at the intersection of NE Ainsworth and 33rd. It's a plea for support from someone who thinks speed limits on Ainsworth are too low.
Here's what it says if you can't read the image:
"Unhappy with 20 mph on Ainsworth?

Vision Zero and the City of Portland manufactured public consent in a city that has one of the lowest fatality rates in the nation for pedestrians and cyclists.

They have set an impossibly low speed limit on Ainsworth Street (an arterial roadway) and set up numerous automated ticketing stations as a way to fill the city's coffers with revenue.

At a time, when our schools are underfunding and Portland is experiencing a homelessness crisis they have spent millions in traffic signage and man hours. Call and Tell them enough!"
The sign also provides the phone numbers and emails of Mayor Ted Wheeler and a PBOT traffic engineer named Scott Batson.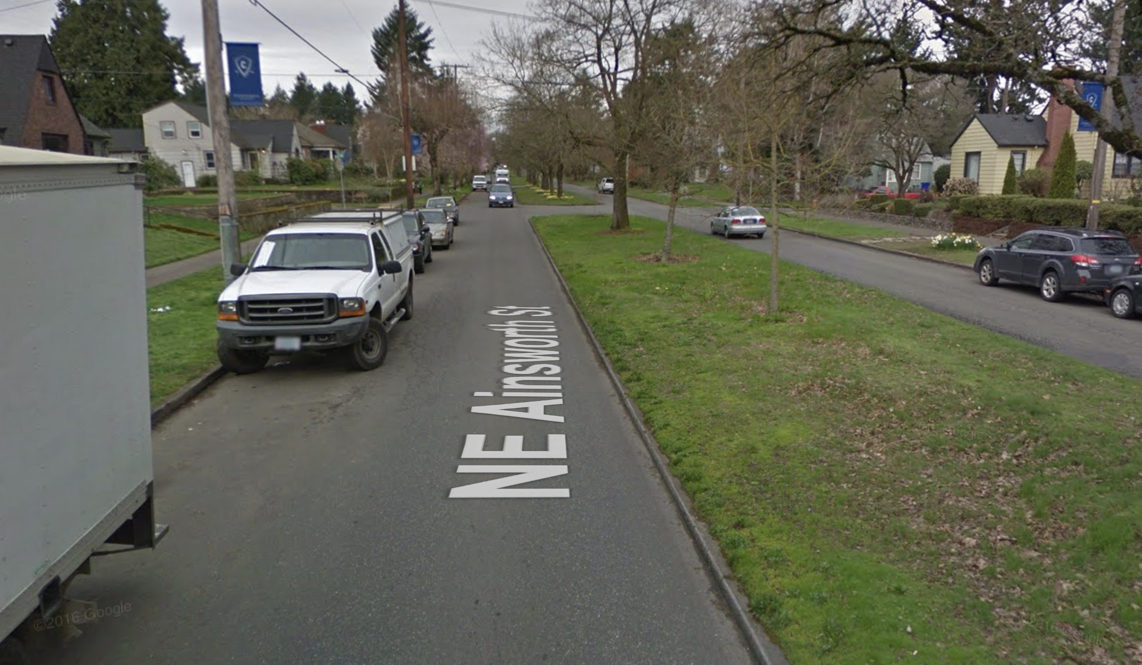 For the record, Ainsworth is so narrow that people park with the wheels of their cars up on the grass and fold in their rear-view mirrors. While this person sees Ainsworth as an arterial (and others think bicycle users don't belong on it at all), we once shared the vision of someone who thinks it should be carfree in the future.
Back to the sign: Wee could easily brush it off as an outlier as it was clearly created by someone who isn't fully aware of all the facts (Ainsworth is a very narrow neighborhood street adjacent a linear arboretum – far from an "arterial", and there are not speed cameras anywhere near this location).
But I also think it's another sign that the war on speeding PBOT has undertaken in the past few years is working. From elevating Vision Zero to a top priority, to the "20 is plenty" residential street speed limit law, PBOT has done a ton of important work to take back the reins of our streets. And I always say if we aren't angering people who prefer a drive-however-you-want-and-screw-everyone-else status quo, than we aren't doing enough to change the system.
Usually it's the safety activists who have to resort to desperate tactics like this. Now the shoe is on the other foot and that's a great sign.
— Jonathan Maus: (503) 706-8804, @jonathan_maus on Twitter and jonathan@bikeportland.org
Never miss a story. Sign-up for the daily BP Headlines email.
BikePortland needs your support.