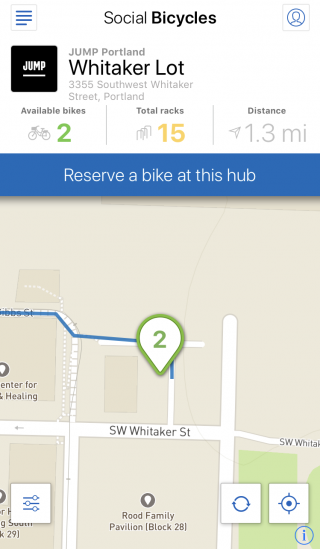 Today is day 5 of the Portland Aerial Tram shutdown, but for me it's only the second day I've had to deal with getting up the hill without riding the tram. Monday I telecommuted, yesterday I rode one of the shuttles and today I am taking an e-bike. Today was actually my very first time using bike share and riding an ebike.
I chose the Jump bike because I had already downloaded the app and the Lime bikes just arrived yesterday and I don't have the app yet. OHSU has partnered with these companies to let students and staff use the bikes to get to OHSU, so the usage area is confined to the South Waterfront and the OHSU campus.
After checking my bike in at the Go By Bike valet (Whitaker lot), I opened up the Sobi app and reserved a Jump bike. There were only two, so I got lucky. I as I was trying to remember my pin, my coworker Jennifer showed up and reserved the other bike. She used the Jump bike yesterday to ride up the hill, so I asked her if we could ride together. I loaded my bag and speaker into the Jump bike basket and we were on our way.
Riding an ebike is an amazing experience. Other ebike riders have told me "you still have to pedal!" but riding on the flats didn't require so much "pedaling" but more of "keeping the crank turning". Hardly any leg muscle at all was needed to keep the crank turning and the bike going. It was super fun!
We rode through downtown on the suggested route. Riding up the hills required very little pedaling effort. There were OHSU provided wayfinding signs all along the route.
The last hill up Campus Drive was the steepest, and required constant pedaling, even with the e-assist. However I was nowhere near the effort I know it takes to make it up this road on a regular geared bike. We reached the Student Center, where another Go By Bike valet station was, as well as the area to park the ebikes.
The final tally was 2.47 miles and the time used was 28 minutes. The time is total time from activation, not just riding time. Riding time was about 22 minutes. I could probably shave a couple of minutes off that time by parking and leaving from the Schnitzer lot.
Let me know if you have questions. I'm not sure how I will get up the hill tomorrow, but I know I have plenty of options!