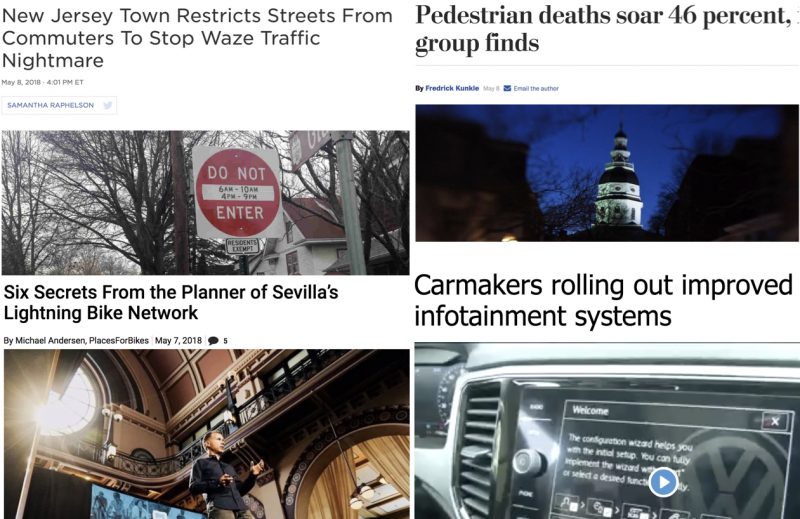 Welcome to Monday.
Before we delve into another week, let's catch up with the best stories from the previous one…
Residents only: A town in New Jersey has taken the awesome step of restricting access on some residential streets in order to get them off the Waze app and prevent drivers from cutting-through. It's either this or physical diverters on every street. Take your pick, city leaders!

Pendulum to buses: It's a constant swing in media coverage of transportation: Fawn over AV, infotainment systems and driverless tech, then remind folks that — "a big moving container of people on a fixed route" — aka the bus — has worked all along.
Pendulum to bikes: Same as above, except for bikes."The Vehicle of the Future Has Two Wheels, Handlebars, and is a Bike," says tech media giant Wired.
Dockless changing the game: It's no coincidence that Portland's free Biketown experiment happens as private dockless bike share operators are knocking on our door. Now a bike share system in Los Angeles is considering halving its fares due to dockless competition.
Sevilla's success: The lightning-quick development of a protected cycling network in this Spanish city can be traced to a single political poll where 90 percent of respondents demanded better bikeways. That and other important nuggets explain how Sevilla built its network in just four years (or, about the time it takes Portland to select a community advisory council).
Uber's AV blind post: The auto industry has never cared about the safety of people outside its products — so we shouldn't be surprised about the latest reporting about the death in Tempe.
The good Waltons: Instead of decimating economies with a retail concept that encourages a race to the bottom, these Walton heirs are doing something cool: Putting their money into mountain biking.
A terrible trend: The auto industry is willfully making cars more dangerous by adding more distractions. This industry is out-of-control and must be more highly regulated. Who will stand up to them?
A different future: A new report by Tony Dutzik of Frontier Group, The Future of Travel Demand and the Implications for Policy and Planning, is a solid foundation for a new approach to transportation investment. Dutzik makes the point that assumptions used to sustain our continued freeway-and-road building mistakes are based in assumptions that no longer reflect how people live and move.
LAPD's cop out: Police in Los Angeles are very concerned about a rise in careless and distracted walkers who they say are causing their own deaths.
The real problem: What gets lost in the "distracted pedestrian" and false equivalency of "we all have to share the road," is the fact that the reason so many people are dying is huge SUVs with massive engines and weak headlights driven by selfish people on roads that are dangerous by design.
Where bike lanes end: A blogger in Albuquerque has coined a new term to describe suddenly ending bike lanes (SEBLs): Seabulls.
Peak divisiveness: This story about a Seattle city councilor who was physically assaulted for supporting a "yuppie" bike trail shows (among other things) how successful the media and politicians have been at turning people against each other for their own monetary gain.
Coast to coast NIMBYism: Curbed reports that, similar to Portland, the biggest impediment to making streets safer is unfair and drawn-out public processes that gives too much power to hateful people whose only aim is to maintain the status quo (aka NIMBYs).
E-bike subsidies: We missed an opportunity in the big 2017 transportation package to create a subsidy for electric bicycles. Here's a story about politicians in the U.K. who are pushing for that policy.
Twitter Thread of the Week: DC-based transportation engineer Bill Schultheiss on those ridiculous large trucks:
While stopped at a traffic light in Santa Monica, I noticed this fearsome looking machine with a loud muffler behind us. A mile later the dude raced past me blowing "coal" into my open car window. pic.twitter.com/xX40J24WIn

— Bill Schultheiss (@schlthss) May 12, 2018
Thanks for all the suggestions this week. And thanks to all the great transportation reporters out there who create these stories.
— Jonathan Maus: (503) 706-8804, @jonathan_maus on Twitter and jonathan@bikeportland.org
Never miss a story. Sign-up for the daily BP Headlines email.
BikePortland needs your support.