Posted by Jonathan Maus (Publisher/Editor) on August 3rd, 2017 at 3:02 pm
Changes coming to Southeast Morrison will create a new protected bikeway, bus-only lane, safer crossings and better access for freight vehicles between Grand and 12th. Belmont will also get a new bikeway to fill the existing gap between Grand and 7th.

In a PBOT report, only one of the 18 businesses was opposed to the idea and 143 of the 153 people who took the online survey supported the changes.
Back in June we reported that PBOT had proposed this project after years of feedback from users who had safety and operational concerns. Morrison is currently a two-way street with no bike lane a little-used eastbound lane that ends at 11th Avenue. Its eastbound couplet, Belmont, only has a bike lane east of 7th. The project will add a protected bike lane on Morrison and will connect Grand to 7th on Belmont with an unprotected bike lane. The new bikeway on Morrison will feed into the existing bikeway between Grand and Martin Luther King Jr. Blvd that provides access to the Morrison Bridge and Water Avenue.
The change comes after public feedback via a PBOT survey was overwhelmingly supportive of the idea.
Acting on orders from the Central Eastside Industrial Council's Transportation and Parking Advisory Committee in May, PBOT conducted and only survey, door-to-door outreach for businesses on the corridor, and did a direct mailing to over 1,200 adjacent residents. In a PBOT report, only one of the 18 businesses was opposed to the idea and 143 of the 153 people who took the online survey supported the changes. 98 people offered additional comments via the survey and/or emails directly to PBOT. The words (besides "street") that appeared most frequently in those comments were "bus lane" and "protected bike lane."
There's another element here giving PBOT the confidence to reconfigure this major inner Portland roadway: Construction projects on Morrison have recently closed the eastbound lane and whaddya' know? PBOT says they've, "Noted little impact from this closure."
Here's an aerial view of the current striping plan. Notice that the bus-only lane will still have "pro-time" parking which means it'll be available for parking only during off-peak hours.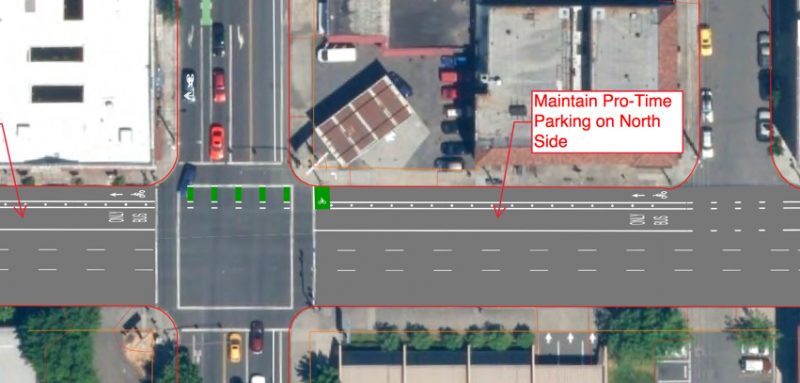 From here PBOT will continue to analyze feedback and refine the final design. They expect to complete the project this fall. You can see an overhead diagram of current striping plans and learn more about the project at PBOT's website.
— Jonathan Maus: (503) 706-8804, @jonathan_maus on Twitter and jonathan@bikeportland.org
Never miss a story. Sign-up for the daily BP Headlines email.
BikePortland needs your support.
Jonathan Maus is BikePortland's editor, publisher and founder. Contact him at @jonathan_maus on Twitter, via email at maus.jonathan@gmail.com, or phone/text at 503-706-8804. Also, if you read and appreciate this site, Jonathan hopes you'll become a supporter.