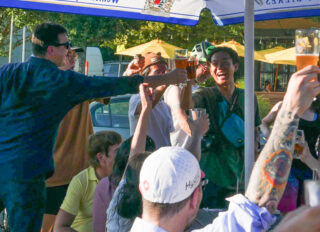 What Portland bike thieves took away, our community is giving back.
As we shared last week, South Korean bike tourer Kim Minhyeong was pedaling through Portland on his dream trip when his bike was stolen from outside the Southeast Hawthorne Fred Meyer. It was fully loaded with all his gear, including his laptop, camera, and more. As word spread, Bryan Hance from Bike Index decided to help. Hance swung into action and held a fundraiser for Kim last Thursday.
According to Hance, about 40 people showed up to Apex Bar — many of them with gear and donations in-hand. They showed Minhyeong what Portland is really all about as they shared free food donated to the event by Grind Musubi. "Definitely made me proud to be a Portlander! It was overwhelming, I won't lie." Hance wrote on in an email to supporters.

Portland-based apparel company Showers Pass donated store credit that Minhyeong has used to get a new jacket (the cool Atlas model no less). Right now Hance is helping Minhyeong organize a list of gear he still needs to replace with hopes of getting back on the road in 2-3 weeks. He also said friends of Minhyeong's took him shopping for a new bike today. The outpouring of support has certainly made an impression.
"When I started this journey, I was alone," Minhyeong wrote on his Facebook page yesterday. "But now, because of everyone's support, I no longer feel alone."
A GoFundMe campaign site has also been set up in case you would like to support this cause and help Minhyeong turn his bad experience into a good memory.
And in case you're wondering, Minhyeong finally got a u-lock.
— Jonathan Maus: (503) 706-8804, @jonathan_maus on Twitter and jonathan@bikeportland.org
BikePortland is supported by the community (that means you!). Please become a subscriber or make a donation today.