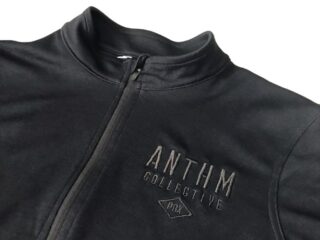 By our newest contributor, James Buckroyd.
In the world of product development, this is how it usually goes: You have a great idea, you make contact with an agent in Hong Kong or Mainland China and you start in a series of negotiations. After many long e-mail chains and late-night phone calls you begin to develop a product.
Unfortunately, what gets lost in the back-and-forths with the factory are the fine details that are essential to make the product shine in an ever-demanding consumer market. As you view sample after sample from your offshore agent, you realize things aren't as perfect as you'd like them to be.
Rewind the tape. Enter Brian Anthony of Portland-based Anthm Collective.
"Basically we wanted gear to ride in that represented the values we believe in," he shared with us recently. "So we went out and made it."

"If something comes up, it's a short bike ride to see what's going on in person as opposed to 20 hours on a plane."
— Brian Anthony of Anthm Collective on making his jerseys in Portland.
Anthony channels his knowledge of materials and product development into a cycling jersey (and brand) that is made in Portland, where he controls the details. Anthm uses local sewing contractors which allows him to have what he says is, "Complete visibility of how our garments are being made."
"The other great thing about using local sewing contractors is that if something comes up, it's a short bike ride to see what's going on in person as opposed to 20 hours on a plane," Anthony added.
This care in development is where craft meets manufacture and it takes the best of both worlds to produce great stuff.
Along with craft, material and manufacturing excellence, Anthony has a different business strategy. For many years bike shops have struggled with apparel sales; shoppers don't buy in-store because they see the same products with more selection and discounts online. To them, apparel became a commodity. Anthony sells directly to bike shops with a unique feel and exclusivity (via a custom-embroidered shop logo) so buyers know that they are getting something special and won't be tempted to "Google it".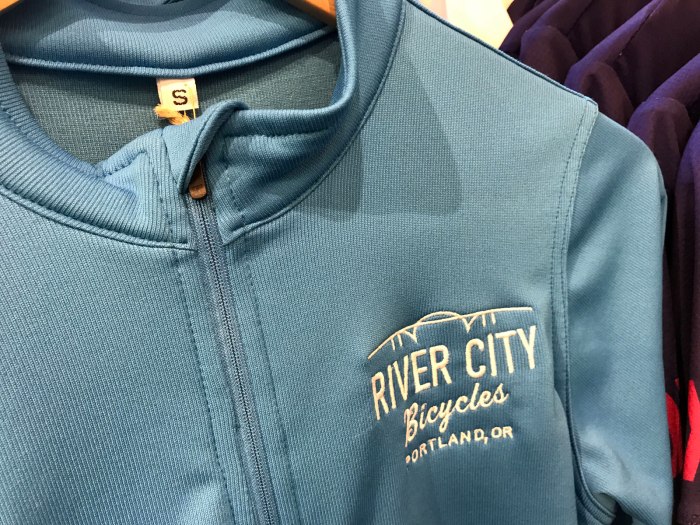 Now, let's get to the nuts and bolts.
The Saltzman Jersey
The minimal styling and high couture vibe of this jersey immediately reminds you of a large brand founded in the UK that starts with an R. It's difficult not to like this high-end aesthetic.
The Jersey is 60 percent polyester and 40 percent merino wool from New Zealand. That combo gives you the characteristics of wool (great heat management, moisture transfer and odor resistance), and polyester (structure to maintain shape and fit). The material is constructed so that the wool is close to the skin for comfort and polyester on the outer surface. This is different than most manufacturers and provides the benefit of less snagging and a better moisture transfer system.
The jersey I have is black and size medium. I'm 6-foot 3 with a 37-inch chest and narrow shoulders. The jersey fits me nice in length and doesn't feel pinchy at the shoulders or neckline. The material has a nice hand feel and feels like a quality garment, not inexpensive cycling fodder. It is notably thinner than Rapha's sport wool, which means it's more suitable for more months in a milder climate and can be used in warmer weather where I would usually switch to a polyester jersey.
As an endurance rider, it's important to me that garments are comfortable, fit well and have usable features as I am often on the bike for four to seven hours at a time.
Cases in point: The Saltzman has a silicon gripper strip on the rear hem and three open pockets in the back. The central pocket is deeper and the two outside ones are slightly tapered outward for easy access (a feature on some older Castelli jerseys that I really like). The jersey also has a small secure zippered pocket that is perfect for a credit card and a $20 bill. At first blush the pockets are located at a great height on the jersey (everyone hates pockets that are too high), but the test will be when I load them up with food and supplies. The neck line runs high and a flap over the zipper at the top stops it from snagging into your skin. The rest of the front is plain with a nicely embroidered logo in the same colour as the jersey — a subtle aesthetic for that high couture look found by the skinny guys in the black and white photoshoots.
On the road
With around 600 miles on this jersey I can now say I have thoroughly used it. From short to long rides and at various temperatures this jersey seems to resonate as a solid 0-70 mile jersey. It breathes well and stays a tad warmer than a polyester single layer jersey. On chillier days I could wear the jersey in the mid 50s (with a base layer) all the way up to low 70s.
This jersey stands out in two areas. First, it looks smart. It's pretty subdued and classy looking, not adorned with tons of logos or colour breaks like most other cycling apparel. When worn with fitted shorts (not skin-tight spandex) the outfit has a refined, high-end urban look look.
The second bonus area is that you can wear it multiple times without it smelling – the benefit of wool and a well-designed mositure transfer between the layers. On its longest stretch I managed to wear it for 4 days, each day riding about 35 miles.
On the flip-side, there were a couple of downers. Personally, I like doing longer rides of 80 to 110 miles and found that for longer rides, the pockets weren't quite designed well enough for the gear and food I had to carry. With a bit of weight in them the side pockets tend to sag off the sides and they are not quite deep enough.
The second area that was a little concerning is pilling (when tiny balls form on top of the fabric). In a short amount of time I found that the material on the front of the jersey pilled up a little, maybe because this was a prototype? Indeed. Anthony assured me this issue has been resolved on production versions.
And there are a couple of fit changes I would suggest to the folks at Anthm; one being the tail of the jersey be made shorter and possibly run the pockets 15 mm longer.
Summary
At $120 this jersey offers high value and craftsmanship, great construction and quality materials. And the fact that it's made in Portland is a win for all of us.
See the Saltzman jersey in person at River City Bicycles in Portland or University Bicycles in Boulder, and learn more at AnthmCollective.com.
— James Buckroyd, BuckyRides.com and @jbucky1 on Instagram.