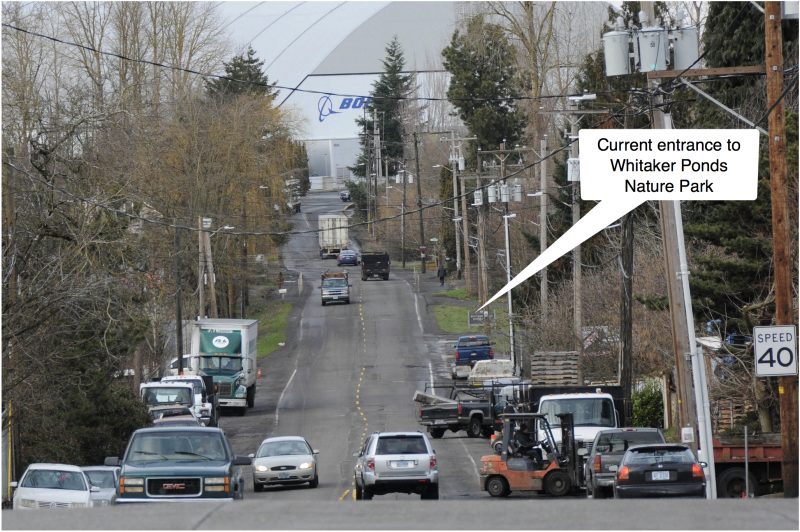 By next summer, Portlanders will have a new park they can bike to — and a popular route to the airport will be vastly improved. Furthermore, an industrial area with thousands of jobs will be easier to get to.

If you don't drive much you might not even know about Whitaker Ponds Nature Park. That's because the 25-acre park is located north of Columbia Boulevard off of 47th Avenue — a place that's all but inaccessible to people who walk and bike. Columbia is a dividing line in our bike network and our city in general. It acts like an urban freeway that runs east-west from I-84 to St. Johns, wreaking havoc on everyone who tries to use it outside of a car or truck (a 15-year-old was nearly killed on the street last August). And 47th Avenue north of the Cully Neighborhood doesn't offer much of a respite even after you cross Columbia.
But several projects in the works will make this part of our city much more inviting to vulnerable road users. This month the City of Portland and the Columbia Slough Watershed Council will break ground on a project to improve the Whitaker Pond's 47th Avenue entrance. And next spring, the City will begin a major rebuild of 47th from Columbia to Cornfoot Road that will include new sidewalks, street trees, and protected bike lanes in each direction. Two future projects — a bike path on Cornfoot and bike access upgrades on 42nd/47th south of Columbia — are planned but still unfunded.
The park entrance project will include sidewalks, a parking lot, a bike parking area, new landscaping, and upgrades to educational facilities (it's a popular spot for school field trips). Funding for the project comes from Parks Bureau system development charges (SDCs) and a $422,000 grant from Metro's Nature in Neighborhoods program.
Here's what the park will look like:

But what good is a nice park if you can't bike there safely? We're excited to share news that the Portland Bureau of Transportation plans to break ground on a complete reconstruction of NE 47th Avenue next spring/summer. The $6.2 million project calls for a new cross-section between Columbia and Cornfoot Road that includes (in most sections) a 7-foot wide bikeway separated from auto traffic by a stormwater planting strip and from a sidewalk by a line of trees. The project will be funded by a combination of PBOT SDCs, a Parks and Bureau of Environmental Services local improvement district, and the Water Bureau due to replacement of an old water main that will be integrated into this project. (Note: This project was supposed to be constructed this spring/summer but the water main component pushed the schedule back). Below are some images of what we can expect:
But wait, there's more!
There are two other projects in the pipeline that will help get you from neighborhoods south of Columbia to the airport (and related destinations like the Ikea shopping center).
The Port of Portland is supporting a project that would build 1.2 miles of multi-use path on the north side of Cornfoot Road from 47th to Alderwood. The path would be 14-feet wide and would connect to an existing piece of path recently built at a US Postal Service site near the intersection of Alderwood and Cornfoot (see below). This project has an estimated cost of $3.1 million and just narrowly missed being selected for Metro's last round of regional flexible funding. It's also on the list of projects to receive PBOT SDCs.
Another project on that Transportation SDC list that relates to this area is a $3.7 million project that would replace the 42nd/47th Avenue overcrossing (of Lombard/Hwy 30) bridge and add a new bikeway to the bridge and road from Killingsworth to Columbia.
Once all these projects are done, Portlanders will have a much safer way to bike from northeast neighborhoods to the airport and beyond. With over 12,000 jobs at the Portland Airport alone, and another 20,000 jobs in the area bounded by 33rd Avenue, I-205, Columbia Blvd and the Columbia River, these connections to residential areas south of Columbia Blvd are vital.
— Jonathan Maus: (503) 706-8804, @jonathan_maus on Twitter and jonathan@bikeportland.org
BikePortland is supported by the community (that means you!). Please become a subscriber or make a donation today.