Subscriber Post by John Liu on April 6th, 2017 at 1:12 pm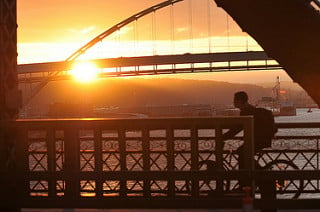 A few days ago, I was sitting at the Laurelthirst Pub, a neighborhood watering hole that is on my bike route from work to home. When I pass the 'Thirst, I'm most of the way home, so I will often stop for a pint.
But this time at the 'Thirst was different, because my legs were limp, my chest hurt, and I was a little shell-shocked. None of which usually describes my state after riding a few miles. It was different because . . . that day was my first bicycle commute in well over a year. And that morning, when I got on my bike, was to be the first time I'd ridden more than half a mile in, at least, six months.
Yes, I've become a non-rider and now I've started on the long road back. With rotund belly, spindly legs, atrophied lungs and somnolent heart, I've resumed riding bicycles.

This all happened because I started a new job last summer. The job has me splitting the week between downtown Portland and Vancouver WA, and wearing a pressed suit, starched shirt, polished shoes and tie all day. I couldn't see joining the spendy gym in the Portland office tower just to use the locker room 1 to 2 days a week, and there is no gym anywhere near my Vancouver office where I work the rest of the week. So I started driving to work, and there went the weekday commute rides. Then winter came, with it snow and ice, and there went the weekend roadie rides. The fitness went away, the inches and pounds came on. When I did get on a bike, I was disgusted and discouraged by my condition. Eventually I started actively avoiding my bikes, out of shame or spite.
My return to cycling has been, umm, not quite a blaze of glory. It has been a mix of darkness and light.
Eventually my wife started muttering things about "you need to start riding", and "maybe you should exercise", and finally "do you need some new clothes?" That last hit home, because every morning I was looking for the remaining suits that I could still comfortably button, and my favorite jeans had become too tight in the midsection and baggy on the thighs. When I realized that my resting pulse had gone way up and that twinges of some old health ailments were starting up again, I realized that Something Had To Be Done.
I joined the downtown gym and put some suits, shirts, and sundries in a locker. After all, I realized, a month's membership costs no more than parking downtown for a week. I called a school near my Vancouver office and cajoled access to their changing rooms and showers outside of class hours. No more excuses. Time to return.
Since that first day a week ago, I've ridden downtown a couple times and also biked from my home in SE Portland to Vancouver a few times. Downtown is a whopping 5 miles roundtrip, and Vancouver is about 26 miles roundtrip if I take the Interstate 5 bridge.
My return to cycling has been, umm, not quite a blaze of glory. It has been a mix of darkness and light.
The darkness includes wondering where my legs went, and learning that false flats aren't really flat. Yesterday, being authoritatively passed by a girl in a Nutcase helmet, wearing a leather satchel, miniskirt and gold high-tops. As she toodled along, reading her iPhone, I chased vainly behind, in the drops with my tongue hanging past my chin. But there are a few glimpses of light. I managed to pass an elderly gentleman on a hybrid bike, and stayed ahead of him for a whole block. Then I quickly turned off the street for fear that he would re-pass me, now that he had finished zipping up his jacket.
The light includes, literally, the rose glow of sunrise over the Columbia River. Watching ducks and sailboats bobbing in the marinas. Riding in the rain and feeling exhilarated rather than wet. The mental decompression of thinking about nothing for awhile, hearing only the criss-criss of my tires and someone's deep, strong breathing. Remembering how good riding my bike makes me feel, and vowing never to stray so far off the cyclists' path again.
— This post was written by BikePortland subscriber John Liu. Learn more about our subscription program here.