The City of Portland took another step today toward fulfilling a promise they made last summer: To make the Biketown bike share program more accessible to people who are unable to ride conventional bicycles.
If all goes according to plan, adaptive bikes should be available for use by this summer.
To refresh your memory, this issue caught the Portland Bureau of Transportation off-guard last summer, just weeks before the scheduled launch of the Biketown program, when a local advocate for people with disabilities began to question the equity of a bike share system that wasn't accessible by all of Portland's bicycle riders. That advocate was Chloe Eudaly, who notched a victory on this issue when PBOT promised to find a solution and then went on to earn a victory at the ballot box when she became a Portland City Commissioner.
Eudaly's prodding set PBOT on the path toward researching options and gathering information from adaptive bike users.
Today PBOT launched a survey to garner focused feedback on their plan. According to a press statement, PBOT will make adaptive bicycle rentals available through existing bike rental businesses that located near popular bike paths. Once the system is up-and-running, people who ride hand-cycles, three-wheeled trikes, and side-by-side tandems, would be able to rent one of the bikes near paths like the Eastbank Esplanade or the Springwater Corridor through a City-subsidized program.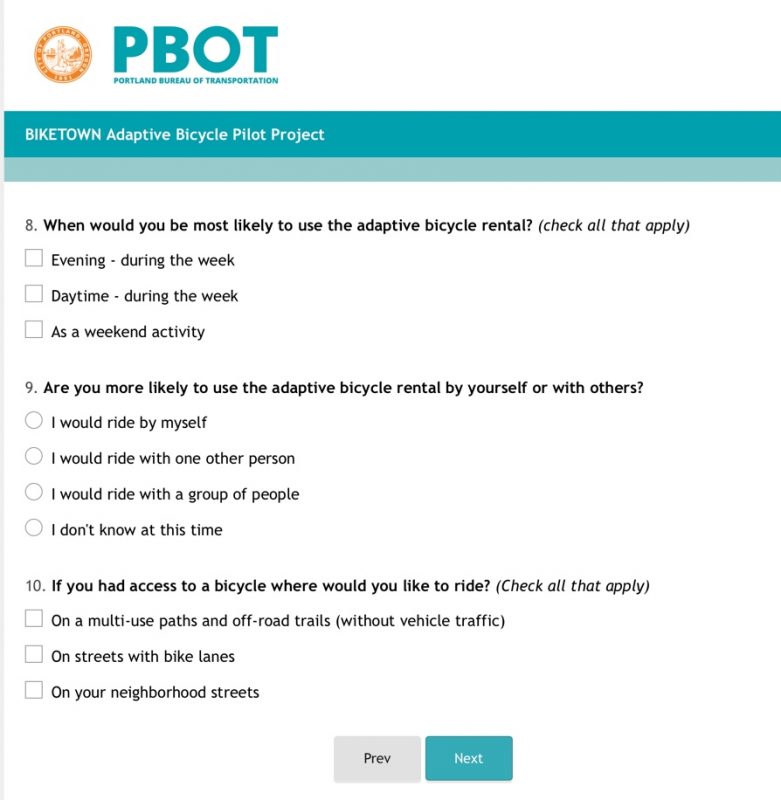 Here's more from the City's new AdaptivePDX.org webpage:
The pilot concept is based on interviews with Portlanders using mobility devices that expressed an interest in an adaptive bicycling rental service. Individuals with disabilities interviewed almost universally expressed a desire and/or need for a staffed service. Individuals explained their need for personal wheelchair storage and assistance with fitting, the need or desire for staff assistance to move between their mobility device and the adaptive bicycle. Because of safety concerns of riding in auto traffic, and a primary interest in exercise and recreation, people wanted to use adaptive bicycles to ride on trails or paths without motor vehicles.
Details are still being ironed out and the public part of this process has just begun. There will be a workgroup and community workshop later this spring. At this point PBOT needs more input from potential users of this service to make sure it hits the right notes. The new survey asks about what types of bicycles are most desired (of the three under considered as mentioned above), which routes people would like to access, how much the service should cost, and so on.
If you or someone you know would use an adaptive bicycle, please share this survey.
— Jonathan Maus: (503) 706-8804, @jonathan_maus on Twitter and jonathan@bikeportland.org
BikePortland is supported by the community (that means you!). Please become a subscriber or make a donation today.