Timber Logjam Ride
February 25, 2017 at 9:00 am

-

3:00 pm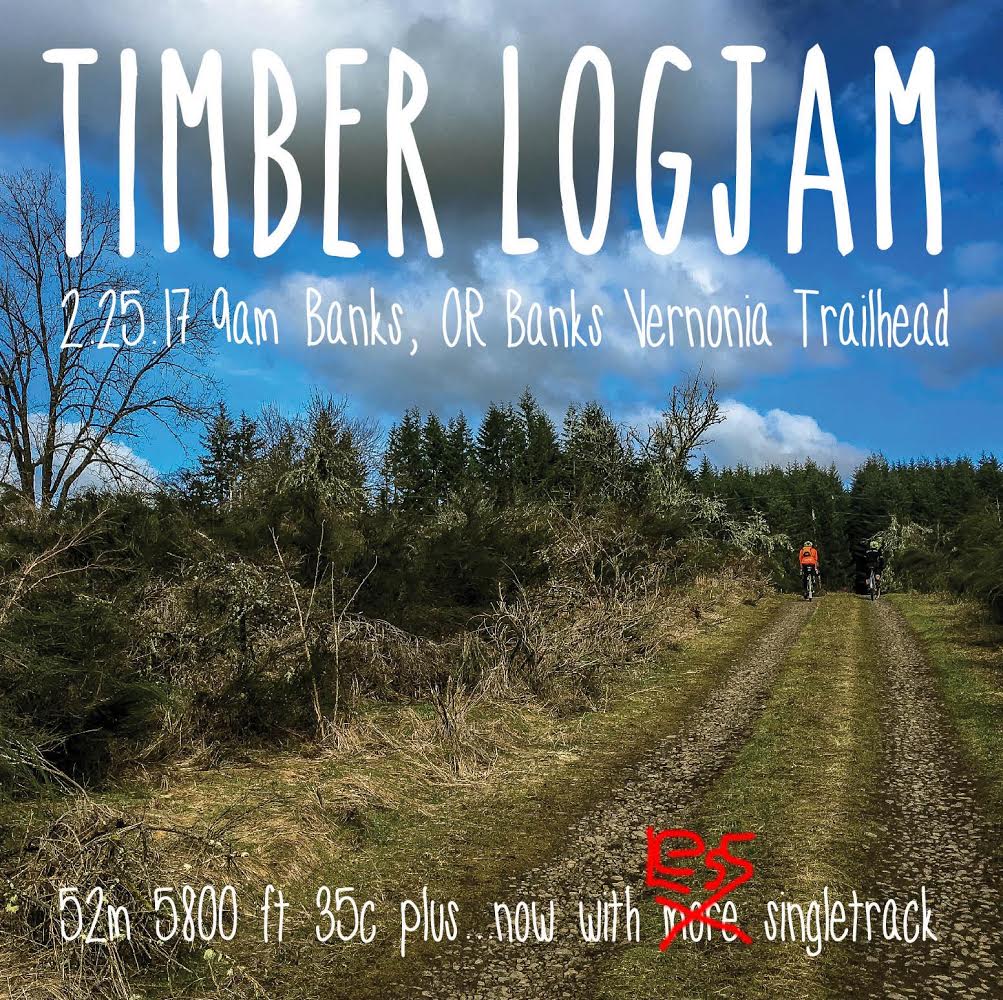 It seems we've eliminated enough variables to call this route solid. Full details + RSVP here:
https://ridewithgps.com/events/29145-the-timber-logjam
*We had wanted to include the full length of Shoofly in Stub Stewart as it is so RAD – but, alas we'd do more damage than good due to current trail conditions, so we're not going in there. Instead, we've routed down Hare's Canyon trail. This is similar to last year. There are a number of ways to get down to the BV trail from the top of Unfit Settlement, so feel free to follow your instincts and have fun. Just DO NOT cross the MTB bridge into mudbog world.
*We are skipping the BV trail at tophill as it is buried under a massive Logjam. Too much Logjam for this Logjam. Instead, we'll drop down 47 at Nowakowski Rd.
*The pass over Johnson road is in good shape but there are new Stimson signs up so be discrete.
*We're bypassing the long slog up Lousignout because.. why bother really. We all know what peanut butter is. The re-route is much easier, has more log obstacles, and is more fun / shorter.
CCC trail still has snow as of last Friday. It's near impossible that will change by Saturday so we cut it. Feel free to investigate when you hit Cochran Rd from Carlson Rd.
WIldcat will likely have some fresh powder at the top this week, but we cleared the entire connector after that, so it's rideable and rad. Again, the far side of this section is technically closed by Stimpson – so be discrete in there once it turns to logging muck.
Overall this makes the long route more concise, and it'll be super fun to ride. At the moment, it isn't even supposed to rain.
Stay tuned to the OMTM instafeed for clever announcements about things!
Don't forget the Banks city limit sprint just before the end.
See you Saturday,
Ryan
Jonathan Maus is BikePortland's editor, publisher and founder. Contact him at @jonathan_maus on Twitter, via email at maus.jonathan@gmail.com, or phone/text at 503-706-8804. Also, if you read and appreciate this site, please become a supporter.