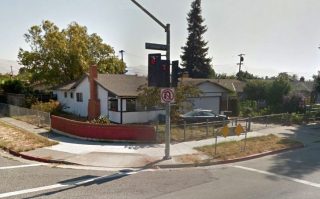 Here are the bike-related links from around the world that caught our eyes this week:
Crash-prone house: A single San Jose home near an offramp has seen 19 vehicles land on its property since 1960, most recently last Monday.
Accidental triathlete: A British mother of three, out for what she thought would be a "leisurely ride" two weeks after she started riding a used hybrid bike for exercise, unexpectedly found herself riding with a triathlon — whose participants talked her into joining them for the whole 13-mile route. "I kept thinking it can't be that much further," she said later. "I'm known for getting myself into odd situations."
Transit backup: As DC's Metrorail cuts back service to repair aging tracks, bike counts are up as much as 94 percent.
Transportation pollution: Closing coal plants and rebounding driving mean that for the first time in decades, U.S. transportation is contributing more to climate change than U.S. electricity.
Happy tradeoff: People who live in traffic-congested cities are slightly more likely to describe themselves as happy.
Housing tradeoff: Middle-income people pay 93 percmore for housing in the most walkable U.S. cities, but their higher salaries and lower transportation costs make up the difference.
Cop collision: After two years of denials, new evidence says a sheriff's deputy did in fact fatally hit a teenage boy on a bike with his speeding no-lights-no-siren patrol car near Spokane in 2014.
"Park-n-pedal": The Boston area just opened 15 more parking lots for people to drive part of their commute and then switch to bike, bringing the total to 19.
Illegalizing cities: The Boston suburb of Somerville, Mass., population 80,000, has exactly 22 buildings that could legally be rebuilt under the city's current code.
Houston zoning: Who knew? Though the zoning-free city has various laws that are equivalent to zoning, it did legalize townhouses in all central residential areas in 1999.
Shoupism summarized: Economist Donald Shoup finally spells out his core arguments for paid parking in one short, fairly accessible article.
Streetsblog birthday: The NYC-based news startup turned 10 last week. It's celebrating in November.
Uber post-Uber: After Uber and Lyft pulled out of Austin over a fingerprinting requirement, residents replaced the service themselves with an unregulated peer-to-peer Facebook group.
Mapping hotspots: The Swedish company behind the "invisible" airbag helmet is testing a handlebar-mounted button that can report the location of dangerous spots on the street and even send an automatic email to the mayor.
Desegregation policy: The federal secretaries of transportation, housing and education wrote a joint letter arguing that better transit, biking and walking access to schools would cut segregation and help more people escape poverty.
Atlanta bike share: The huge city just launched one of the country's smallest systems.
Vision Fewer: U.S. traffic deaths represent "a 747 crashing every week for a year," the head of the National Highway Traffic Safety Administration said. "And that is unacceptable."
If you come across a noteworthy bicycle story, send it in via email, Tweet @bikeportland, or whatever else and we'll consider adding it to next Monday's roundup.
— Michael Andersen, (503) 333-7824 – michael@bikeportland.org
Our work is supported by subscribers. Please become one today.
Michael Andersen was news editor of BikePortland.org from 2013 to 2016 and still pops up occasionally.