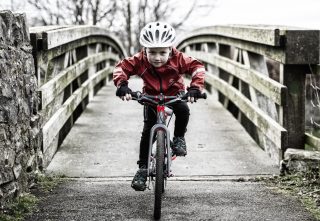 Islabikes has just taken kids bikes to a whole new level.
The UK-based company that opened their North American headquarters in southeast Portland three years ago has just launched the new 'Pro Series' range. They call it "the pinnacle of performance for youth that really want to push limits in regards to stealth and handling."

Islabikes has been very successful in the last three years in providing real children's bikes with components made specifically for smaller hands and an attention to detail often not available from the major brands. Unlike other companies, Islabike is a children's bike specialist: It's all they do and their expertise shines through like never before with these new Pro models.
I got a sneak peek at these last week from Islabikes GM Tim Goddall. He said the project started out of frustration over seeing kids at races using adult-sized bikes modified for their smaller bodies. As youth bike racing has grown (in both the UK and the US), so too has the market for higher-performance bikes that fit them perfectly.
The Pro Series features four new bikes for kids ages four to eight (and over). Check out the details and photos below:
Luath Pro Series

MSRP: $2399.99
website

Ideal for the cyclocross enthusiast and budding racer, the Luath Pro Series is optimized in both fit and performance. The Luath inspires confidence thanks to a long wheel base and slightly slack head angle which helps keep the bike stable. The geometry of the frame has been optimized to keep the smaller rider centered, in control, and efficient. This includes a steeper seat tube angle to further assist with reach for smaller arms. The Luath Pro Series is designed with child specific drop handlebars that measure just 22.2mm in diameter.

Specs:

Steep seat tube angle for keep weight central
Super low Q-Factor Islabikes cranks
Child specific drop handlebars (22.2mm diameter on Luath 24 and 26)
In house designed tires proportional to each model and meet all UCI regulations when paired with Stans rims.
Tubeless compatible
185TPI construction

Creig Pro Series

MSRP: $2299.99
website

The Creig Pro Series is a lightweight MTB that is ready to tackle even the most advanced single track. Built with smaller riders in mind, both the geometry and component choices maximize the ride quality for the young shredder. With Rockshox 30 Gold TK forks, the Creig Pro Series comes with Stans NoTube Rims in all wheel sizes meaning these bikes can be run tubeless with the Schwalbe Rocket Ron tires.

Specs:

Rockshox 30 Gold TK Forks
24 and 26 inch Wheel sizes
Stans NoTube Rims
Cross Country Geometry
Proprietary Low Q-Factor cranks for pedaling ergonomics & efficiency
Low Bottom Bracket

Beinn Pro Series

MSRP: $1499.99
website

Smaller riders get their shot at the mountain with the Beinn Pro Series. The Beinn 20 Pro Series features an in-house designed full carbon fiber fork, a custom 9-speed SRAM cassette to help manage all terrains with even-spaced gearing and optimized chain line.

Specs:

Islabike proprietary full carbon fiber fork
Low spoke count / aluminum nipples reduce rotating weight
Wide ratio SRAM cassette to manage all terrain and reduce chain wear and improve alignment.
Avid DB5 Hydraulic Disk Brakes
Proprietary tires
Stans Rims

Cnoc Pro Series

MSRP: $1199.99
website

The Cnoc Pro Series perfectly illustrates Islabikes' approach to holistic design. With the exception of chain, bottom bracket and hubs, every element of this bike has been custom designed and manufactured by Islabikes. A 7005 aluminum frame and proprietary full carbon fork keeps weight low while offering excellent steering agility. Further weight savings come from Islabikes' custom tires which feature a very supple 185TPI construction. Customized tread pattern provides fast and grippy performance for lighter riders. The Cnoc 16 Pro Series is intended for sanctioned racing only.

Specs:

Proprietary Full Carbon Fork
7005 aluminum frame
Nearly all components designed and manufactured by Islabikes (Excluding chain, bottom bracket, and hubs)
Proprietary 25.4 full carbon seatpost
Islabikes custom tires featuring 185TPI construction
Hollow titanium bottom bracket
Sealed cartridge bearings in bottom bracket
Want more local industry news? Check our Industry Ticker archives.
— Jonathan Maus, (503) 706-8804 – jonathan@bikeportland.org
Our work is supported by subscribers. Please become one today.