Multnomah County is planning a new central courthouse to replace the 100-year-old building they currently use on SW 4th Avenue — and it could come with a raised bike lane.

The location of the new courthouse at the corner of SE Madison and 1st Street, is very familiar to the thousands of Portlanders who ride on the Hawthorne Bridge every day. If all goes according to plan, by 2020 there will be a new 17-story building where an open lot with grass and trees is today.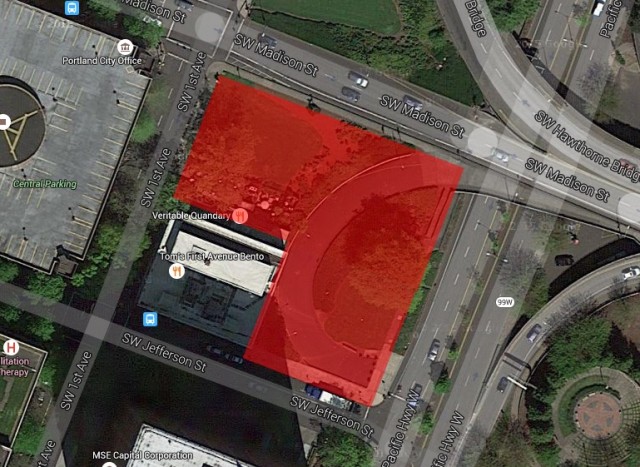 Note the old Harbor Drive onramp that will be removed.
An eagle-eyed reader (thanks Iain!) spotted the bike lane on newly released design drawings and we followed up with the County to confirm it.
According to spokesman Mike Pullen, "The county is exploring the possibility of a raised bike lane on SW Madison. We will be getting input from the City of Portland on this concept soon."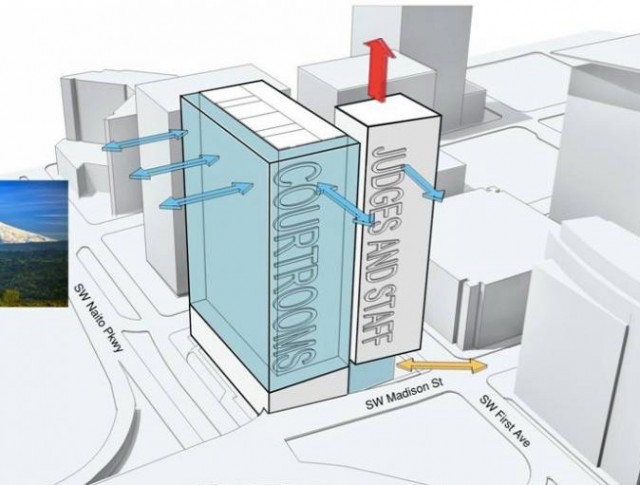 The new raised bike lane would only be a block long or so and it remains to be seen how the final design of Madison changes wth the project. One thing's for sure, the old carfree path from NW Naito up to the eastbound sidewalk on Madison (a remnant of the old Harbor Drive) will no longer exist.
If it makes it into the final plans, this would be the second grade-separated bikeway in the central city (the other one being on SW Moody in South Waterfront).
To learn more about this project and give County planners your feedback on its impacts to adjacent bikeways, drop into a public open house on Thursday (4/21) from 4:00 to 6:00 pm at the old courthouse (1021 SW 4th Ave, Main Jury Room #130). An online comment form will be posted April 22nd at the main project website.
The final design is scheduled to be completed by January 2017 with construction starting in spring of 2017. The new courthouse is expected to open in early 2020.
UPDATE, 8:30 am on 4/20: Our friend up in Seattle Madi Carlson just posted a one-block separated bikeway outside the new Amazing headquarters that could be akin to what we might see here at the new courthouse:
New one-block separated bike lane next to soon-to-be Amazon offices. Short but sweet! #SEAbikes pic.twitter.com/i2evGIVUPr

— Madi Carlson (@familyride) April 20, 2016
— Jonathan Maus, (503) 706-8804 – jonathan@bikeportland.org
Our work is supported by subscribers. Please become one today. .