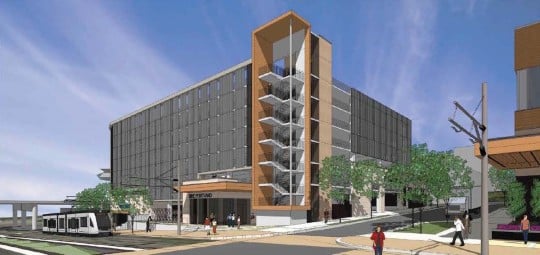 An architect's rendering of the proposed six-story parking garage in the Rose Quarter.
The viaduct on the left is Interstate 5.
(Renderings via
NextPortland
)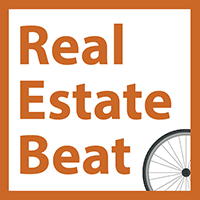 The city's economic development agency agreed this month to have city taxpayers make an eight-figure bet that driving to the Rose Quarter area is going to remain popular for decades.
The Portland Development Commission voted Feb. 10 to borrow $26 million from one of its property tax funds to build a new 425-stall parking garage on public land between NE Holladay Street, Multnomah Street, 1st Avenue and 2nd Avenue, across the street from the Rose Quarter Transit Center.
Fifty of those stalls would then be resold to TriMet for an estimated $8 million, and the other 375 would be set aside for rental to the publicly subsidized 600-room Hyatt Regency Convention Center Hotel that's supposed to go up across the street.
The PDC made headlines last fall for arguing that it couldn't afford to dedicate half of urban renewal tax revenue to affordable housing because it had too many other important priorities.
The PDC says it will turn a profit with this project, and an independent local parking consultant says in this case that's likely.
But the big public loan making it possible is coming at a time when more than half the private-sector hotels in Portland's central city aren't building any new parking at all.
To be sure, all of these hotels will be catering to overnight guests and others who bring cars. But most of the privately funded hotels are choosing to rent spaces from nearby off-site parking garages rather than taking out long-term loans to finance new garages.
If the PDC's revenue projections for the garage turn out to be wrong, Lloyd District taxpayers will be on the hook. Any losses would come out of urban renewal funds that might otherwise be used for local street improvements — for example, planters along the protected bike lane on NE Multnomah, or reconstruction of NE Broadway for better walking, biking or transit.
By the same token, if the garage turns out to make money, the PDC would have more money to spare for such street improvements and other projects.
Garage revenue analysis is secret and came from firm with millions at stake in hotel project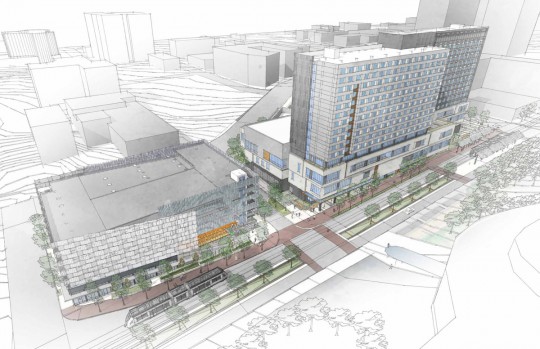 The parking garage, left, is being built because the developers of the new 600-room hotel, right, said they require up to 375 parking spaces for guests and staff at all hours.
City officials say they're confident the garage will be profitable. In fact, they say it'll deliver $500,000 in profit, after operations and construction debt payments, out of about $2 million in annual revenue.
"If you were going to own a garage in town, this'd be the garage you'd want to own."
— Bruce Wood, senior city project manager
"If you were going to own a garage in town, this'd be the garage you'd want to own," said Bruce Wood, the PDC project manager working on the garage deal.
Wood said the PDC can't share the formula that was used to estimate the garage's revenues, because it's proprietary.
"They won't even send it to me," Wood said.
In this case, "they" includes Schlesinger Companies, a Portland parking management and development firm. Wood said the company estimated that the garage will be able to get 90 percent of its revenue from a projected valet charge of $35 per car per night, which Wood said is on the low side in the Portland hotel market.
"All the models and everything were provided to us by the experts in the parking industry," Wood said. "In this particular case, the Schlesingers were one source."
The Schlesingers are also the people who own the land beneath the would-be hotel. They have been vocal advocates for the various public subsidies that have been lined up to support its construction.
"It's very important to our family to get this deal done," Barry Schlesinger told Willamette Week in 2013 for an article that described his family's company as "troubled."
Wood, the city project manager, said he is "not an expert on managing parking demand" and that he has never calculated what the projected revenue per stall would be in the garage; he only knows the total revenue projections from each anticipated use. But based on the garage's projected annual debt service of $1.3 million, plus $1,000 annual operation and maintenance cost per stall, the hotel portion of the garage would need to net an average of $12 per stall per day to break even, or $18 per day to deliver the $500,000 annual profit the PDC projects.
Though the formula Schlesinger Companies used to calculate demand for the garage is proprietary, PDC spokesman Shawn Uhlman said, the PDC is happy to share its outputs.
Independent parking consultant says garage will likely make money, but isn't sure why public must fund it
Rick Williams, a Portland-based parking consultant who ran the district's Go Lloyd business association for 20 years and does business with many of these players but has not been involved in the deal, said the PDC's assumptions of profitability are reasonable.
Mostly, that's because hotel parking is very lucrative.
"On the very top of the pyramid, for parking issues, is hotel parking," Williams said.
Another reason the garage is likely to be a good investment, Williams said: hotel parking garages clear out during the day, so some spaces in the Hyatt lot could potentially be rented out to Lloyd District office workers, or to people attending daytime events at the Oregon Convention Center immediately to the south.
Concerts and games at the Moda Center might also help fill stalls.
"I think it's got a good shot to be viable, because it has the capacity to stack those revenue sources," Williams said.
But if a parking garage in this area is such a good idea, why isn't someone in the private sector — such as the Schlesinger family, or the Mortenson Development company that's helping develop the Hyatt — taking out a loan and pocketing the projected 25 percent profit itself?
"That's a very good question," Williams said. "I don't know why the hotel doesn't build it, because I wasn't privy to that conversation."
If city succeeds in reducing driving, garage deal could backfire
Data
source: Multnomah County. Chart by BikePortland.
Critics of the deal say it makes no sense for the public to be helping finance a long-term future where a central-city hotel has a car parking stall for 62 percent of its rooms.
After all, by 2030 — 12 years into the lifespan of a garage, when it'll still be trying to pay off its construction loans — the city is aiming for only 30 percent of trips in the entire city to happen by car.
Another variable in the mix: self-driving cars. International business consulting group McKinsey and Company predicted last month that by 2030, 15 percent of new cars sold could be autonomous and 10 percent could be shared, with much higher rates in major cities. If that were to happen, demand for central-city parking could fall dramatically.
"Do we believe that a 600 room hotel in one of the most transit rich areas in one of the most transit/bike/walk-able cities in the nation, built adjacent to a light rail line that goes directly to the airport and downtown, in a district with over 3,000 structured spaces, will be parked to capacity in 2030?" asked Tony Jordan of the paid-parking advocacy group PDX Shoupistas in a blog post last week. "Doubtful. This is a dinosaur plan."
Indeed, auto use among Portland tourists has already been falling much faster than auto use among Portland residents. As we reported in 2014, hotel and motel sales are up 26 percent since 2001, after inflation, but car rentals are down 13 percent.
"If we have a national convention, we have mostly out-of-town visitors who don't have cars here. They either walk or they take the MAX."
— Scott Cruickshank, executive director, Oregon Convention Center
The argument for publicly subsidizing a large private hotel is that it will lure out-of-town conventions to Portland, bringing cash into the region's economy. But Scott Cruickshank, executive director of the Oregon Convention Center, said last week that almost no one who comes to Portland for an out-of-town convention is looking to park a car.
"If we have a national convention, we have mostly out-of-town visitors who don't have cars here," Cruickshank said. "They either walk or they take the MAX. They don't typically rent cars and drive to the center."
Cruickshank, like Williams, said he thinks the hotel needs its own parking garage — but not for the sort of national conventions that the hotel is theoretically being built to attract. Both said the planned garage will be useful for attracting local and regional conventions to which most people drive cars.
Wood said he approached Cruickshank to ask if the 800-space garage at the south end of the Convention Center site could meet the hotel developer's request for 375 guaranteed spaces at all hours. Cruickshank said no.
Not building parking garage would probably kill hotel deal, PDC warns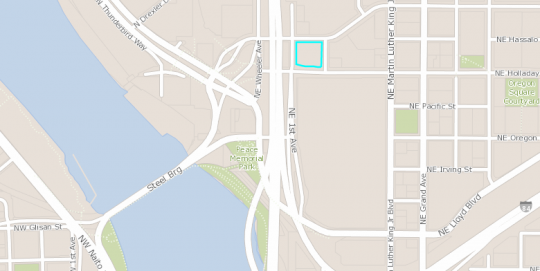 The location of the proposed parking garage. Across the freeway is the Moda Center, whose garages have 2,500 parking spaces. Immediately south is the Oregon Convention Center, whose garage has 800 parking spaces.
(Image: Portlandmaps.com)
The Portland Development Commission's Feb. 10 vote to finance the garage out of its urban renewal funds, previously reported by the Portland Business Journal and NextPortland, does not need to be approved by the Portland City Council, according to Uhlman. That means public funding for the project is a done deal.
(PDC commissioners are appointed by city council. Mayor Charlie Hales, a backer of the hotel, is the commissioner in charge of the PDC. When the city council voted on the hotel plan, only Commissioner Steve Novick opposed it.)
Both the garage and hotel are currently in land use review with the city's Bureau of Development Services.
According to the PDC's staff report on the measure, any decision not to finance and approve the parking garage would probably tank the hotel deal.
"If the Parking Garage does not move forward, it is unlikely that the Hotel would move forward," the report says. "Without the Parking Garage, the Hotel would require a substantial redesign and additional financial resources to fund the required below-grade parking."
Williams, the parking consultant, said he thinks 375 parking spaces for a 600-room hotel is relatively modest and in line with demand at other hotels. As for the possibility that autonomous car technology might cut the garage's revenue, he said that's possible but too vague to base a business plan on.
"It's a wave that people think is coming, but it's a wave that has no data," Williams said. "Let's just build as little parking as we need."
— Michael Andersen, (503) 333-7824 – michael@bikeportland.org
We need your help. Please become a subscriber today so we can continue to bring stories like this to life.
The Real Estate Beat is a regular column. You can sign up to get an email of Real Estate Beat posts (and nothing else) here, or read past installments here.