(Photos © J. Maus/BikePortland)
2016 is starting off with a bang for off-road trail riding in Portland. Two major plans — one that could bring bike access to the River View Natural Area and the other that develop a blueprint for off-road bike access in parks and other spaces throughout the city — are both moving forward in significant ways.
Back in November we shared some of the uncertainty that looms over a management plan for the Portland Parks Bureau's River View Natural Area. That plan was controversial and spurred a legal action by off-road cycling advocacy group Northwest Trail Alliance.
The River View plan was set for City Council adoption last month, but the hearing was rescheduled. Now it's set for next Thursday January 14th at 2:00 pm.

The Advisory Committee will guide creation of a citywide vision and plan for a system of off-road cycling trails and facilities where children, adults and families can ride for fun, exercise and to experience nature in the city.
— Bureau of Planning and Sustainability
The key issue on the radar of off-road advocates is that the current plan as written does not reflect any of their input or expertise. That's because, even though they were on the committee, the Parks Bureau made a strange decision to prohibit any discussion of bicycle access on the 146-acre parcel. Advocates fear that if the plan is adopted without additional amendments it will be impossible or very difficult to retroactively add bike access in. "Our concern is with the proposed trail alignment," said NWTA's Andrew Jansky in an interview today. "Because mountain biking wasn't talked about openly, it was not included in the context of the trail alignment."
Parks has put bicycling access on an "interim prohibited" status in River View. They say the future of biking in River View will be determined through a separate plan, the Off-road Cycling Master Plan currently being developed by the Bureau of Planning and Sustainability (BPS). If that's the case, cycling advocates say, wouldn't it make more sense to delay adoption of the River View plan until after the Off-road Cycling Master Plan is complete?
There's also uncertainly whether the Off-road Cycling Master Plan would have the power to change or undo policies adopted in the River View Management Plan.
On a related note, this morning BPS released the names of people who will serve on the 16-member Off-Road Cycling Master Plan Project Advisory Committee (60 people applied in all). That committee will work with outside consultants and city staff to come up with a list of recommendations that BPS says will, "Guide creation of a citywide vision and plan for a system of off-road cycling trails and facilities where children, adults and families can ride for fun, exercise and to experience nature in the city."
Given Portland's past struggles with off-road bike access, the make-up of this committee is very important. They'll essentially be voting on the future of off-road cycling in Portland (keep in mind this means not just singletrack trails in parks, but pump tracks, gravel roads, and other off-pavement opportunities). Here's the list, with short bios from BPS: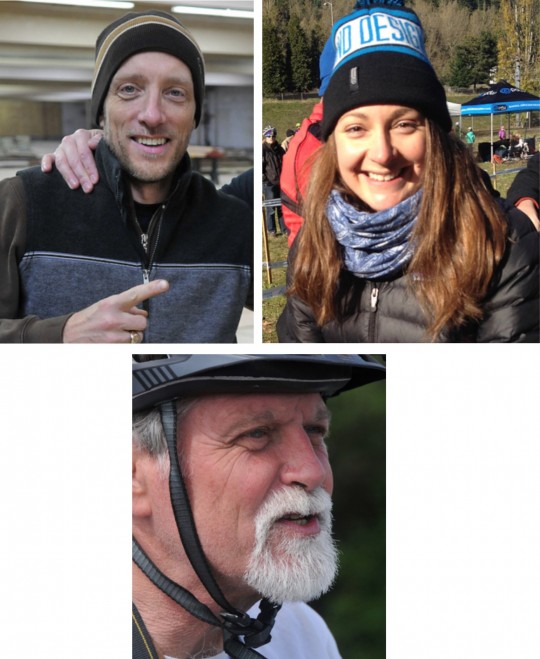 Top: Michael Whitesel (L) and Jocelyn Gaudi. Bottom: Mike Houck.
Punneh Abdolhossieni
Punneh works for Partners in Diversity, an organization partnering with Oregon and SW Washington employers to attract and retain professionals of color. Her academic focus was outdoor education and recreation and overcoming barriers to participation for communities of color. Punneh represents the Community Cycling Center and enjoys off-road cycling and racing.

Kelsey Cardwell
Kelsey is the communications director for Stand for Children Oregon, an advocacy organization focusing on preparation for and access to college for all children. She is also the President of and represents the Northwest Trail Alliance, a mountain bicycling advocacy and trail stewardship organization encompassing NW Oregon and SW Washington. Kelsey is an off-road cyclist and trail runner.

Erin Chipps
Erin is an environmental specialist for the Federal Highway Administration Western Federal Lands Division, reviewing environmental impacts of road and trail projects. She has a background in biology and a Masters in Environmental Management. Erin is an off-road cyclist and racer.

Matthew Erdman
Matthew is an attorney and manager at Legal Aid and previously worked with El Programa Hispano, supporting low-income, English as a Second Language and minority residents. His educational background is in economics with a focus on valuation of natural resources. Matthew is a road and off-road cyclist and bike racer.

Jocelyn Gaudi
Jocelyn is an active volunteer within the off-road cycling community and is a certified mountain bike instructor, with a focus on encouraging more women and youth to ride off-road. She is also a member of the Komorebi Cycling bikepacking group. Jocelyn serves on the Portland Bicycle Advisory Committee and the Friends of Gateway Green board, both of which she represents.

Mike Houck
Mike Houck has been a leader in urban park and greenspace issues since founding the Urban Naturalist Program at the Audubon Society of Portland in 1980. He helped found the Coalition for a Livable Future and now directs the Urban Greenspaces Institute. He is a member of The Intertwine Alliance's core group and its board of directors. He is an avid hiker and urban naturalist. Mike serves on the City of Portland's Planning and Sustainability Commission.

Adnan Kadir
Adnan is a professional cycling coach with Aeolus Endurance Sport and member of the Oregon Bicycle Tourism Partnership. He is on the board of the Bicycle Transportation Alliance (BTA), where he works to implement programs in low-income neighborhoods and with at-risk youth. Adnan is a member of the Buckman Community Association and enjoys off-road cycling, hiking, and trail running. He represents the Oregon Bicycle Racing Association (OBRA).

Carrie Leonard
Carrie is a children's bike specialist with Islabikes, Inc., a company that produces high quality bikes for children. She has a background in freshwater conservation and engineering. Carrie is a road cyclist and trail runner, and her children are off-road cyclists. Carrie is a member of the Portland Society, a group of professional women who are passionate about business and bicycling.

Torrey Lindbo
Torrey is the Water Sciences Program Manager for the City of Gresham, bike commuting daily from SW Portland on the Springwater Corridor. He is also president of the Tryon Creek Watershed Council, and has served on the Johnson Creek Watershed Council for eight years. Torrey is a hiker, trail runner, and on the board of Team Red Lizard, a Portland running club.

Kelly McBride
Kelly is an occupational therapist with Legacy Memorial Hospital and volunteers with Adaptive Sports Northwest, focusing on accessibility for people with disabilities. She is a hiker and trail runner and has begun riding off-road with her husband, who uses a handcycle.

Renee Meyers
Renee is the Director of the Forest Park Conservancy, which she represents. The Forest Park Conservancy's mission focuses on the interdependent values of protecting Forest Park's ecological health while encouraging responsible recreation and access. The Conservancy works directly with Portland Parks & Recreation to restore the park and build and maintain natural-surface trails.

Jim Owens
Jim is a public policy, land use planning and community engagement specialist with the Cogan Owens Greene consulting firm. He has worked on many complex environmental and recreation projects and plans, including environmental impact statements for recreational uses in Northwest Forest lands. Jim serves on and represents the Portland Parks Board. He also serves on the Board of Directors of the Portland Parks Foundation.

Nastassja Pace
Nastassja leads Oregon bicycle tourism development efforts at Travel Oregon, with a focus on building local economies around outdoor recreation tourism. She serves on the Scenic Bikeway Advisory Committee, convenes the Oregon Bicycle Tourism Partnership, organizes and facilitates Oregon Bicycle Tourism Studio workshops, and oversees the Oregon Bike Friendly Business program. Nastassja represents Travel Oregon.

Bob Sallinger
Bob is the Conservation Director for the Audubon Society of Portland. He has worked on urban natural area and natural resource issues for over 20 years, serving on the Portland Parks Board and the BES Watershed Management Plan Advisory Committee, and has participated in off-road cycling planning efforts in Forest Park, Riverview and Powell Butte. Bob represents the Audubon Society of Portland and is an avid hiker and naturalist.

Evan Smith
Evan is Senior Vice President of the Conservation Fund, a national environmental organization, overseeing 200,000 acres of forestland managed for sustainable timber harvest, watershed restoration and recreation. His educational background is in geology and hydrogeology. Evan is an off-road cyclist, trail runner and bike commuter. He lives near Forest Park in the Linnton Neighborhood.

Michael Whitesel
Michael owns the Lumberyard Bike Park and located his business in an under-served area of East Portland to provide recreational programs to youth. He is also President of the Oregon Big Tent Recreation Coalition, which advocates for safe and responsible recreation in Oregon.
The first meeting of this committee is set for January 28th.
Stay tuned early next week when we'll know more about Thursday's council action on River View.
For full background, browse our River View Natural Area and Off-road Cycling Master Plan story archives.
— Jonathan Maus, (503) 706-8804 – jonathan@bikeportland.org