Small is the new big when it comes to bike shops in Portland. Over the past few years we've seen a clear trend in what type of shops are opening up. They are small and service-oriented, tucked away in places that often only a loyal stable of local customers know about.
In the past few months three new small bike shops have opened up in Portland. Here's what you need to know about each one of them…
Tuite Bicycle Repair – 2234 N Lombard (Google Map)
Tommy Tuite opened up his shop back in September. With over 10 years of experience at local stalwarts like Veloshop (now Portland Bicycle Studio), Western Bikeworks, and Velotech.com, Tuite offers a little something for everyone. He and his (growing) family live just a few blocks from the store, so it's truly a neighborhood place where you're certain to feel welcome. "We aim to add a positive space for the community to discover bicycles for racing, health and transportation," Tommy said in an email to us a few months back.

Tommy is a veteran 'cross racer so he knows the high performance stuff; but his shop has bikes for cruising and commuting too. Fairdale is one of the shop brands. Swing by Monday through Saturday from 10:00 am to 6:00 pm or call (503) 477-5570 to see if Tommy's got what you need. TuiteBicycleRepair.com
Workhorse Cycle – 833 SE Main/Activspace (Google Map)
Workhorse Cycle is a brand new shop opened by Portlander Nolan Restivo. Tucked in a small space (in the same building as BikePortland's first office!), Nolan's forte is one-on-one service with a smile. His personal passion for cyclocross, bikepacking, and mountain biking inspired him to open his own shop. WorkhorseCycle.com


Norther Cycles – 5515 N Albina (Google Map)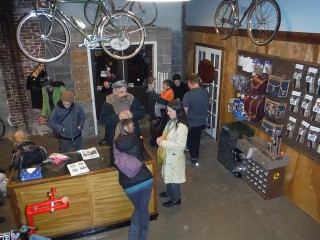 Norther is the new venture from framebuilders Starmichael Bowman and Mark Simmons. You might recall Starmichael from his time over at Kenton Cycle Repair. And Mark is the builder behind Belladonna Cycles, which he started in 2008. Together, this duo have carved out a cool space just off the vibrant corner of Killingsworth and Albina adjacent to the Portland Community College campus. Norther is a combination framebuilding shop and retail store. They carry lots of silver vintage and new-old-stock drivetrain parts from companies like Suntour, Mafac and Shimano, dynamo lights from Son, handlebar bags, fenders, and more. They also love to refurbish vintage bikes and do repairs and overhauls.
Norther's retail shop is open Friday through Sunday 12:00 to 6:00 pm, or by appointment. Give them a call at (971) 303-2809. NortherCycles.com
We're lucky to have such a diverse selection of bike shops in Portland. Who knows, maybe one of these three will be your forever shop.
— Jonathan Maus, (503) 706-8804 – jonathan@bikeportland.org
If you have questions or feedback about this site or my work, feel free to contact me at @jonathan_maus on Twitter, via email at maus.jonathan@gmail.com, or phone/text at 503-706-8804. Also, if you read and appreciate this site, please become a supporter.